What makes the Kiltwalk so special?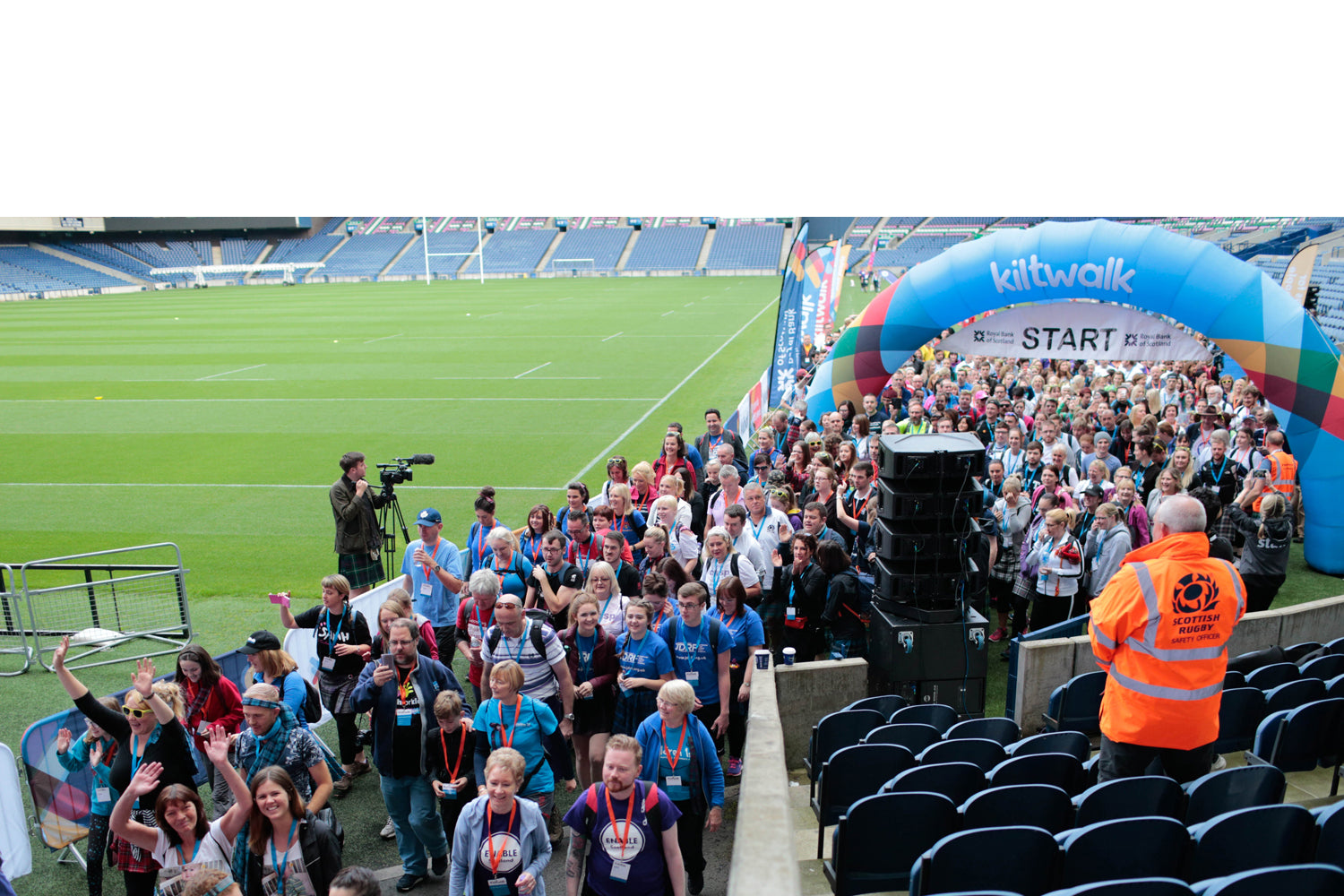 The 2019 Kiltwalk begins in Edinburgh on Sunday the 15th of September and is now only a few weeks away! With previous events throughout the year in Glasgow, Aberdeen and Dundee - the Kiltwalk is an incredibly popular event (nearly 5000 people have signed up for the Edinburgh event this year) that has touched the hearts of many throughout Scotland! But what is it that makes the Kiltwalk so special?
One of the greatest things about the Kiltwalk is that participants are free to raise money for any charity of their choice. A lot of other events throughout Scotland are limited to raising money for a single charity but the Kiltwalk understands that different charities mean different things to everyone and that everybody should have the freedom and flexibility to raise money for the charity of their choice.
What make this even more incredible is the fact that 140% of all donations go to the charity of your choice. This is made possible thanks to funding via the "Hunter Foundation" which adds an extra 40% to all donations. This means that if you send £100 worth of donations to your chosen charity £140 will be sent in total - not bad for an extra boost!
Another truly great aspect of the Kiltwalk is the flexibility in terms of walking distance. The Kiltwalk offers 3 different types of walk: The 24 mile "Mighty Stride" which is perfect for people who are used to longer walks, the 14.5 mile "Big Stroll" - a perfect middle ground and then finally the 5 mile "Wee Wander" which is great for families with children and dogs. Offering 3 different lengths of walks is a terrific idea as it allows almost anyone to take part in the Kiltwalk!
- A kilt that is very commonly seen at the Kiltwalk with Grey Granite Tartan.
The Kiltwalk is also perfect for tourists and people who are new to Edinburgh as it allows them to see some of the city's greatest attractions whilst also getting some exercise. The Kiltwalk starts off at the the Scottish Parliment building before heading through Holyrood Park which allows walkers to get a good look at one of Edinburgh's greatest attractions - Arthur's Seat. The Kiltwalk then goes past other famous landmarks such as The Shore in Leith, Gypsy Brae and finishes off at the famous Murrayfield stadium which is of course home to the Scotland Rugby team!
Of course one of the best aspects of the Kiltwalk is seeing all the fantastic outfits on display. It is always great to see such a large group of people gathered together wearing some traditional Highland Dress! Participants are not forced to wear kilts however and can wear whatever they find comfortable during the walk. Of course kilts are the number one worn item during the walk and can be seen in countless different tartans, but there are plenty of other traditional items to be seen including pairs of tartan trews, sporrans and even tammy hats. Sometimes you can even see people dressed as a bagpipe player during the walk!
- It is not uncommon to see a bagpipe player during the kiltwalk!
What makes the Kiltwalk truly special is the versatility and flexibility that it offers the people taking part. No matter if you want to take part in a huge marathon, a gentler smaller stroll or just to dress up and meet new people, there really is something for everyone! Combine this with a unique and patriotic atmosphere and you have an event that you really can't find anywhere else. Whatever the case the Kiltwalk is sure to be a fan favourite for many years to come!