What makes Edinburgh Castle so important to Scotland?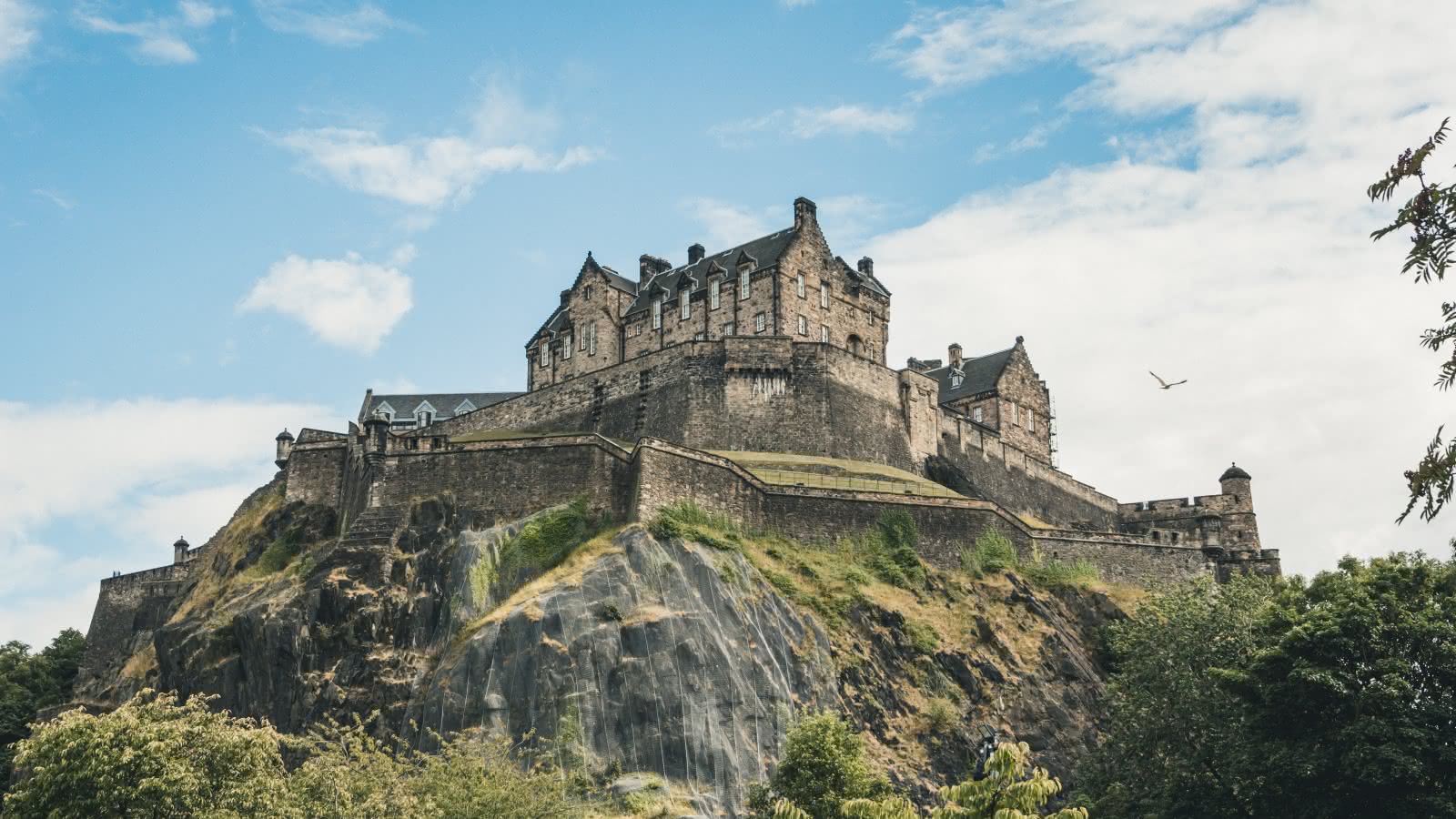 When you think of the City of Edinburgh, Edinburgh Castle is usually one of the first things that come to mind. Overlooking Princes Street and the Royal Mile it is almost impossible to miss the castle and it is well known as being one of Scotland's most iconic landmarks.
But what is it about the castle that makes it so unique and important to visit for travellers and also Scottish locals? Join us as we discuss what makes Edinburgh Castle so important to Scotland!
It's built on an extinct volcano
The first thing that makes Edinburgh Castle very unique is that it was built on an extinct volcano! Known as "Castle Rock" this volcano was active around 350 million years ago but is thankfully inactive today.
The castle was most likely built on this site to offer a defensive advantage during sieges and wars as the entrance is only accessible from the East. Castle Rock is a massive 460 feet high which would give the defensive forces located in the Castle a perfect view of the City for any intruders/invaders. 
- Edinburgh Castle is located on top of an extinct volcano that was active 350 million years ago
It's over 1,000 years old
Architects presume Edinburgh Castle has existed for at least 1,000 years and was present during the reign of King David the 1st in the 12th century.
The Castle has a very rich and detailed history having been involved in at least 26 skirmishes including the famous "Jacobite Rising" and also the "War of Scottish Independence" in the 1300s.
The castle is without a doubt one of the most assaulted locations in Scotland so it is impressive that it is still standing all these years later!
It was used as a prison
During both World Wars, Edinburgh Castle was mostly used as a prison although the Scottish Garrison remained there during the whole of World War 1 and only left in 1923.
uring World War 1 infamous Scottish Socialist politician David Kirkwood was held there for inciting a mass riot in Glasgow. The castle was a bomb target during the first world war from a German Zeppelin but thankfully the bomb was narrowly missed.
During World War 2 the castle was used to imprison Captured German Luftwaffe pilots who had previously been attacking Scotland.
It's the most popular tourist attraction in Scotland
In modern times, Edinburgh Castle has been a well-known tourist attraction since 1991. The Castle is perhaps unsurprisingly Scotland's most popular tourist attraction with over 2 million visitors every year. Tourism at the castle thrives during August thanks to the Edinburgh Fringe Festival, as visitors all flock towards it.
Inside the castle is the "National War Museum of Scotland", a museum dedicated to covering over 400 years of Scottish War from the 17th Century. You'll also find the "Scottish National War Memorial", which is a monument that remembers and pays respects to Scottish victims of both World Wars.
Here, you'll also the "Honours of Scotland": the Scottish crown Jewels that have survived since the 16th century and are Britain's oldest set of jewels! 
- The Scottish National War Memorial inside Edinburgh Castle pays respect to victims from World War 1 and 2.
A gun is fired every day
Another great feature that is held at Edinburgh Castle in the present day is the "One O'Clock Gun".
The gun is used as an audible symbol to tell everyone the exact time of day. The gun is fired every day of the year except for Sunday's, Good Friday, and Christmas Day.The sound of the gun going off has become such a huge part of Edinburgh tradition that if the gun isn't heard that day, some residents automatically begin to worry!
The very first model of the One O'Clock Gun was an 18-pound muzzle-loading cannon that needed 4 people to operate!. Nowadays, however. the gun is an L118 light gun that can be operated by one person.
The gun has been used once in a military setting during the First World War when it was fired at a German Zeppelin. Unfortunately, however, the shot missed, but thankfully the gun was not damaged in any way!
- The One O'Clock gun is fired at approximately 1pm every day and can be operated by one person.
You'll see the castle everywhere
Edinburgh Castle has become so popular that it is now seen as a symbol of Edinburgh and sometimes even Scotland as a whole!
Images of the castle on postcards, bags and t-shirts can be found in tourist shops all around Edinburgh. The castle is also seen on some banknotes and is always the prominent focus when Edinburgh is being reported on in the news.
The castle is also a huge focus during Edinburgh's Hogmanay scene and is often seen surrounded by fireworks in celebration of the New Year.
You should always dress up for a visit
Many tourists that are visiting Edinburgh Castle are very curious about what sort of outfit to wear.
Although there is no right answer, a pair of Tartan Trews are perfect for not only respecting the culture but for also keeping warm during the chilly Scottish weather! Combing this with a pair of Ghillie Brogues will leave you with an outfit that is smart yet practical and perfect for exploring the castle.
- A pair of Tartan Trews are perfect for the trip to Edinburgh Castle!
Final Thoughts
So there you have it, what makes Edinburgh Castle so important to Scotland is a combination of it's deep history, cultural impact, beauty and attraction to tourists.
Whatever the reasons there is no doubt that Edinburgh Castle will remain as one of Scotland's most important landmarks for many years to come!