What is Polyviscose Fabric?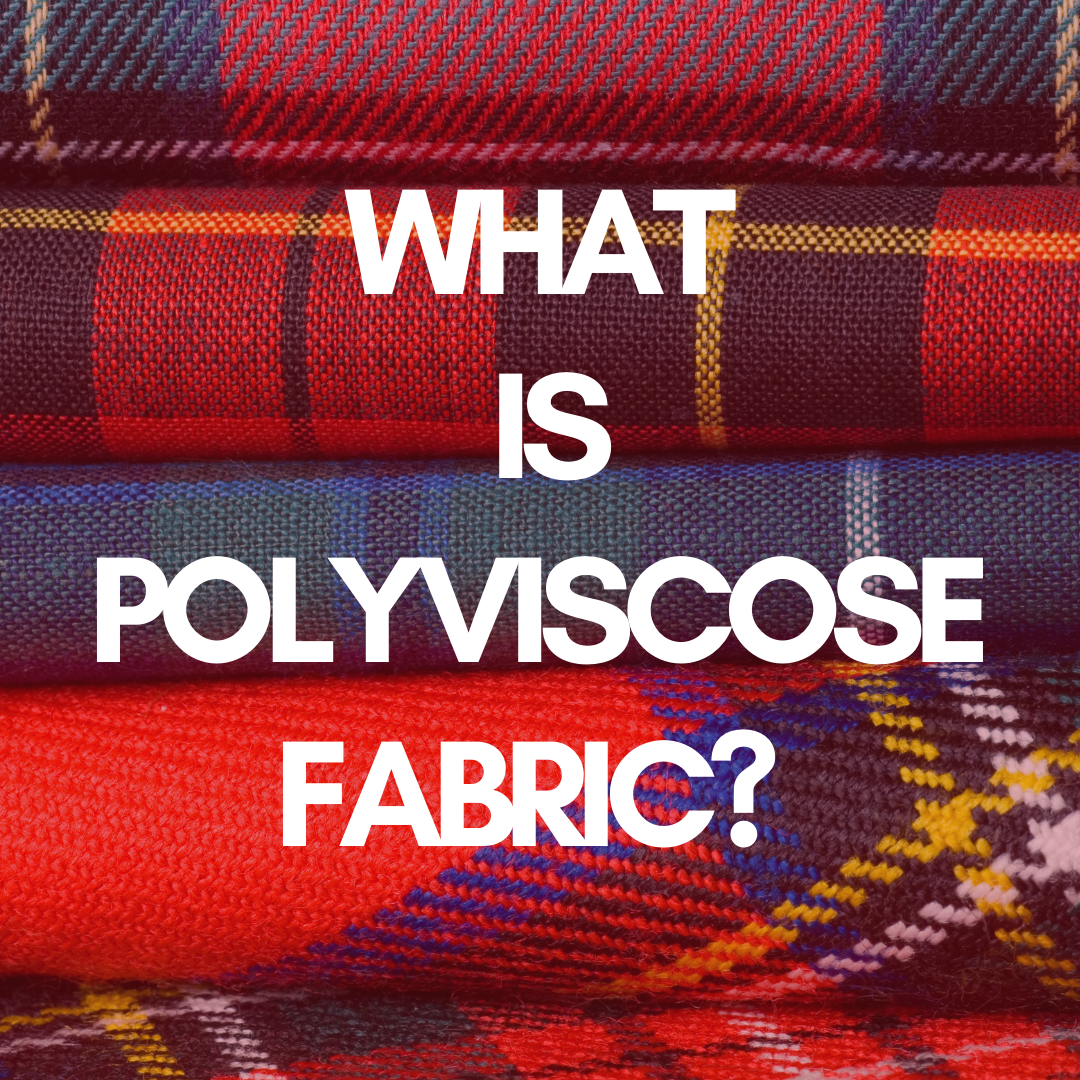 Polyviscose Tartan fabric is a durable and adaptable fabric manufactured from a mixture of polyester and viscose. The combination not only makes the fabric durable, but also makes it resistant to creases and drapes, making it ideal for a selection of our tartan products. 

Polyviscose Tartan fabric is highly absorbent; therefore it feels good against the skin when worn, especially appropriate for fun events and parties. Even after a lot of wear and several washings, the fabric resists shrinkage and holds its shape nicely. Due to the luxuriously smooth, wool-like texture found in high-end fabric, it has become a popular alternative to pricey wool.

What is the History of Polyviscose?

Polyviscose are made of two elements, viscose and polyester.

Viscose was created in 1883 in France, and became popular within retail in the 1910s. It first boomed in popularity due to its soft touch, and was often used to make curtains, dresses, blouses or velvet.
Viscose is a man-made natural plant-based cellulose fibre, regenerated from dissolved wood pulp or bamboo.
Polyester is an artificial fibre which is known for being resistant to wrinkling and shrinking. When these two fibres are weaved together, these qualities merge into a durable, breathable fabric, known as Polyviscose.

Why is Polyviscose a Good Alternative to Wool?

Polyviscose is a much cheaper option to wool tartan, making it more affordable for customers. Due to its durable material, many find it's easier to keep for a long time due to its ability to be rewashed several time without suffering the fabric. This means it would be a perfect option for someone who is looking to wear kilts frequently and for parties and events.

Polyviscose is also a popular choice for vegans, as it's made from no animal sources. As growing climate concerns become more relevent to consumers in their purchases, Polyviscose is a great way to invest in tartan without contributing to animal industry.

This material is also great for those with a wool allergy or with sensitive skin. The soft material means many prefer it's touch on the skin in comparison with wool tartan.

Is Polyviscose Good for the Environment?
 
As we have already covered, Polyviscose is plant based, and does not come from animal sources. This has huge benefits to the environment, but what about sustainability?
 
Because Polyviscose is a more durable option, the fabric tends to last longer meaning there is less need for over consumption.
As the fabric can be washed and is less likely to shrink, it lasts longer and is more sustainable. Viscose is increasingly manufactured with the Lyocell process that uses N-Methlymorpholine N-oxide as the solvent. This results in less waste, making it more eco-friendly.
 
What Polyviscose Products Do We Sell?
We sell a variety of Polyviscose kilts in several different tartans. Here are our best sellers.
MEN'S KILT, 8 YARD POLYVISCOSE - MACKENZIE MODERN
The Kilt has two leather straps, that gives the kilt a little bit of give or take on the sizes.
This kilt has a 100% Cotton lining for a soft feel when being worn and is an excellent first purchase kilt, ideal for the Football, Rugby Games, Scouts, or simply fashion wear.
Material length is a full 8 yards, 16oz heavy weight poly viscose. To view on our online store, click here.
MEN'S POLYVISCOSE TARTAN TREWS - BLACK WATCH
 These men's tartan trews are designed in Polyviscose material, making them soft to the touch and durable.
These trews are designed with fly front and 2 buttons fastening. Made in popular Black Watch tartan, these trews are perfect for parties and events.
To view these tartan trews on our online store, click here.
GENTS POLYVISCOSE TARTAN WAISTCOAT - 5 TARTANS
This fun yet stylish waistcoat could be worn to casual events and formal events alike. Made of Polyviscose, this waistcoat has a soft touch and is long-lasting.
Available in 5 tartans, you can choose the waistcoat to suit your Scottish outfit.
To view this waistcose on our online store, click here.