The Incredible Prince Charlie Jacket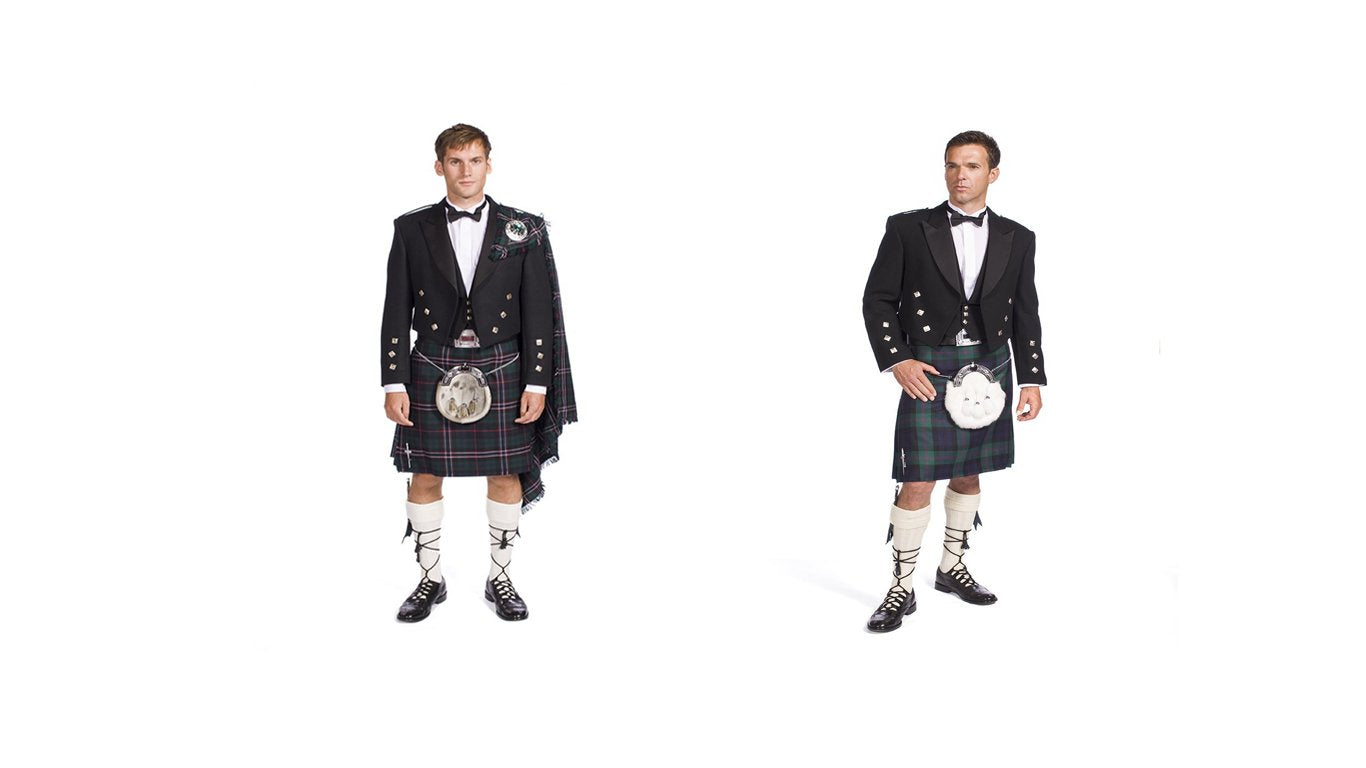 The Prince Charlie kilt jacket and waistcoat are beautifully fitted and perfect for formal events. The elegantly tailored cut of this style of jacket will be sure to make you stand out from the crowd! The Prince Charlie is probably the most common of all the various kilt jackets at formal and evening events as the style and fit of the jacket allows you to show off more of your kilt and accessories than with other styles of kilt jacket.
Prince Charlie Kilt Outfit - £265.00
By far the most important part of the Prince Charlie jacket is the fit. Having the perfect tailored fit allows the jacket to sit perfectly on the wearer and won't ruin their figure. The kilt jacket and waistcoat both have distinct silver buttons in a set pattern that makes them easily recognisable from a distance. The jacket also has tails which makes the back just as regal as the front. It is heavily decorated which is why it is often only seen at formal events. The waistcoat is just as lavish as the  jacket with matching buttons and silk lapels.
Prestige Prince Charlie Hire Outfit - £129.99
The Prince Charlie Jacket is made of heavy worsted wool (wool that has been combed so that it is all going in the same direction). They are very comfortable to wear and are also incredibly durable as well, If a crease appears whilst sitting it will quickly become straightened out due to the heaviness of the fabric. There are two pockets on the inside of the jacket, however it's suggested to use them only if you absolutely must as it would ruin the jackets figure. The jacket and waistcoat  are most commonly worn with winged collar shirt.
Fly Plaid Prince Charlie Kilt Outfit - £479.99
Though the Prince Charlie jacket and waistcoat usually tend to be a solid colour (usually a dark black but other colours can be used including tartans) people often customise their lapels with a splash of colour to match their kilt or family tartan. The deep black or royal blue that is often used brings out the tartan and makes a real statement!
At the Scotland Kilt Company we have a range of both pre-made and custom measured Prince Charlie jackets and waistcoats. Why not check out the range at www.thescotlandkiltcompany.co.uk