THE BEST WEDDING VENUES IN SCOTLAND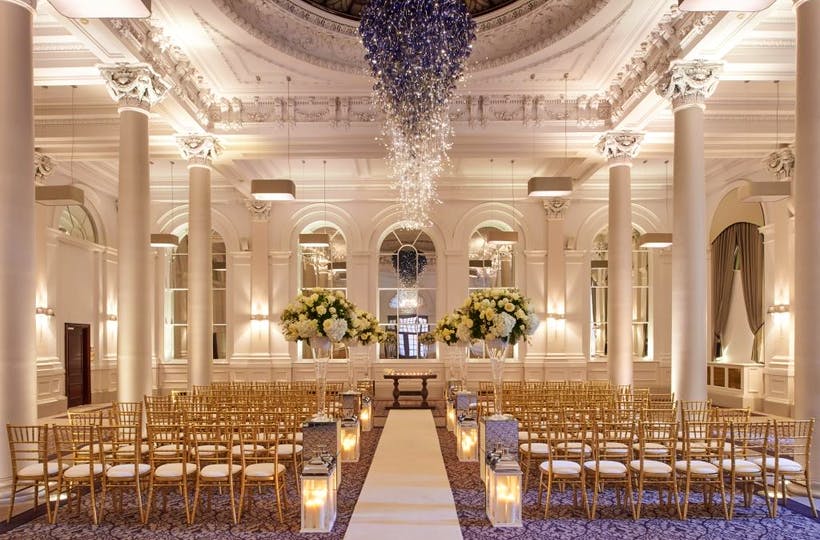 Scotland has a world-famous reputation for beautiful landscapes and castles, making it the ideal country to host your wedding day. With hundreds of unique locations to choose from, it can be overwhelming to select the venue.
Here at the Scotland Kilt Company, we've been providing our customers with kilts and wedding accessories for over 15 years and have become highly familiar with wedding venues over our time.
Here are our five favourite wedding venues we recommend in Scotland. 
Preston Hall
Preston Hall is an 18th-century Palladian mansion built in the Robert Adam style, set in 200 acres of This venue creates a ''home from home'' sense for couples by opening its doors for a few weddings each year. Whether you choose an intimate and magnificent reception at the main house or a more relaxing and rustic gathering at the Walled Garden, each place has its personality and charm.
Whether you choose a private reception in the main house with exquisite period furnishings or a larger gathering in the recently renovated wall garden, each setting has charm and charisma.
Preston Hall personalises each wedding to the couple, resulting in memorable events. On-site groundskeepers can assist with setup, and a carefully curated selection of recommended vendors has been picked to make the day as special as possible.
Pollok House
Pollok House, which dates from the thirteenth century, is known for its spectacular architecture, luxurious furnishings, and world-famous art collection.
Pollok House is located 3 miles from the city centre and offers the ideal backdrop for private weddings, with beautifully kept gardens and sweeping stairs. Civil, religious, and humanist ceremonies are placed in the Pavilion Library, arguably Scotland's best twentieth-century Library.
The Library, framed by Ionic columns and ornamented with some of Pollok's most prized artworks, also has a Steinway concert grand piano that can entertain guests and welcome the bride down the aisle.
The beautifully built Parterre Garden, accessible through French doors from the Library, is great for pictures, celebratory cocktails, or simply a peaceful stroll before supper. Marquees can be erected on the south lawn for bigger wedding celebrations, with Pollok House as a stunning background.
Borthwick Castle
Borthwick Castle, just a 30-minute drive from Edinburgh, is enveloped in 600 years of spectacular Scottish history and provides the most breath-taking backdrops for the most romantic day of your lives. Borthwick Castle will offer you and your guests a fantastic Scottish wedding, with a romantic atmosphere echoing throughout the historic Castle walls.
Borthwick Castle can accommodate up to 26 people in the utmost luxury, with 12 bespoke bedchambers with exquisite fabrics and stunning bespoke oak furnishings, bringing you back to a time when the Lords of Borthwick roamed the castle.
This venue, which can accommodate up to 85 of your closest friends and family, is the ideal setting for your fairy tale wedding, whether you're planning a huge celebration, an intimate family ceremony, or something in between. A personal wedding coordinator will assist you every step of the way to ensure your wedding is all you dreamed and more.
Broxmouth Park
With 150 acres of parkland and woods, Broxmouth Park provides for an unforgettable wedding day. This is in a beautiful location on the East Lothian coast, with a private loch with honeymoon lodge, a 500-year-old Cedar of Lebanon Tree, Queen Victoria's stairway, and the surrounding beach a stunning backdrop for photographs.
Broxmouth is a truly magnificent location and a magical setting to construct the wedding of your dreams, large or little.
Intercontinental Edinburgh The George
Since 1881, the Intercontinental Hotel on George Street has hosted guests with a 4* rating and 5* service. Five designated Georgian townhouses, erected in 1775 as dwellings for Edinburgh's wealthiest people, lie at its centre.
The Scottish Hotel Awards for the Edinburgh & The Lothian's region have awarded this beautiful hotel the Gold Laurel Award, City Hotel of the Year 2017 and Wedding Hotel of the Year 2018. Our hotel's stunning 18th-century architecture and elegant interiors come together to create the perfect backdrop for a lovely wedding day.
The wedding planning team will be there to help you every step of the way, from elaborate parties with loads of tradition in the King's Hall to smaller celebrations in the Library Suite.
The stunning King's Hall, originally built as the Caledonian Insurance Company's banking room, is one of the city's most popular wedding venues. It features a beautiful stained-glass ceiling and striking chandelier, making it the ideal backdrop for wedding photographs and large enough for lavish wedding breakfast as well as a dance floor. You'll be in good hands, with an award-winning staff of wedding planners on hand to help you with every detail.
Final thoughts
A Scottish wedding venue is just one of many ways to incorporate your heritage into your wedding. From wearing a kilt to donning on a sash, there are plenty of ways to add a touch of the Highlands to the most important day of your life.
If you'd like to learn more about these venues or browse even more options, we recommend you visit www.luxuryscottishwedding.co.uk for more information.