Summer Holiday Ideas in Scotland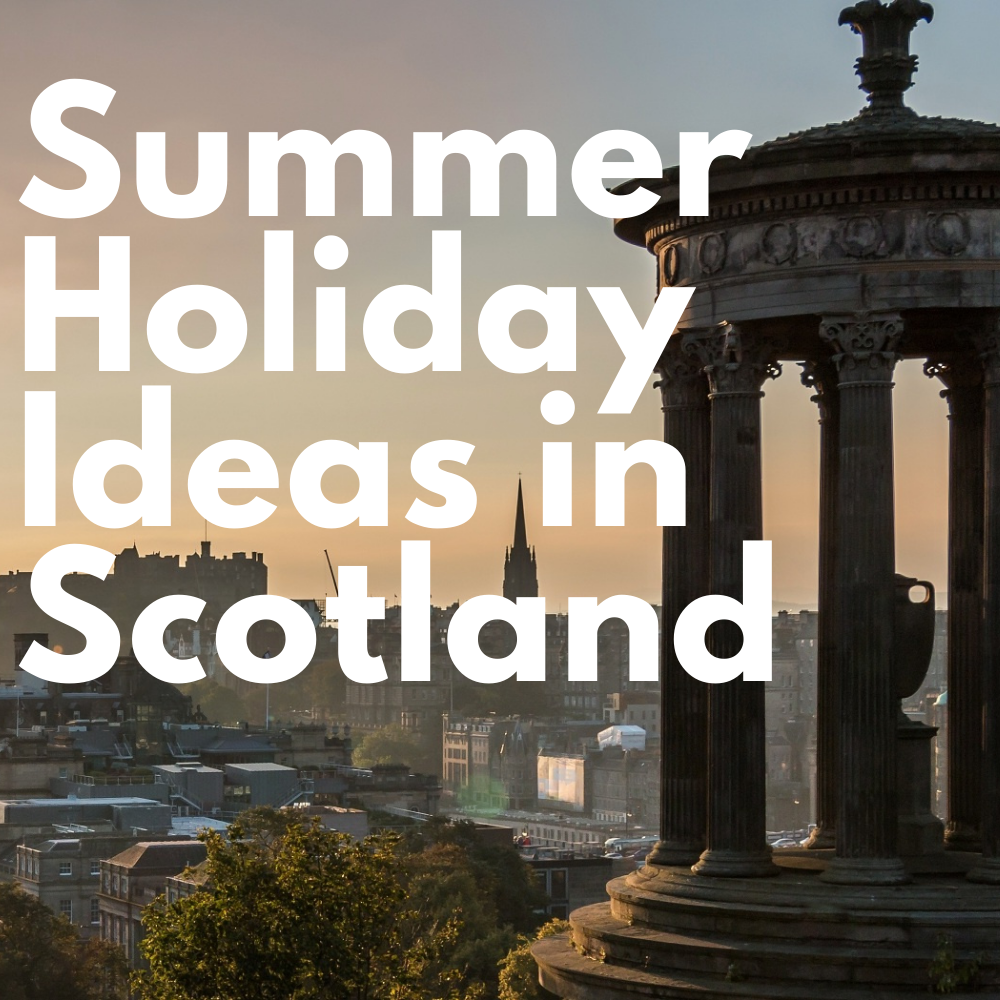 Summer Holiday Ideas in Scotland
Scotland is one of the best places you can choose for a summer holiday. From stretches of stunning countryside, breathtaking beaches and chic cities, we have all you need for a fun-filled vacation. Over COVID-19 many people opted to explore routes like NC500, and a new appreciation for tourism in Scotland has boomed ever since. Whether you're choosing to stay in Scotland this summer or are looking into visiting, here are the top summer holiday ideas in Scotland.
North Coast 500
With travel restrictions fluctuating across the globe, many are opting to return to Scotland's breathtaking northern sights this summer. If you're considering, like many, touring the North Coast 500 this year, the planning process can be daunting. Also known as Scotland's version of Route 66, there is much to fit in this iconic journey. Here are our top tips on how long to plan for, the main highlights and the best accommodation available.

Your journey traditionally starts in Inverness and continues along the west coast. Most choose to travel along northwards to small and charming towns such as Torridon and Ullapool and continue along to the coastal towns like Caithness and Dingwall, which will eventually bring you along back to Inverness. This journey usually takes around 5-7 days, but the beauty of it is that it can be as short or long as you like. Many get sidetracked or decide to spend more/less time in some towns than others, but if you're planning on being flexible it is perhaps a good idea to bring camping equipment. If you're planning on booking hotels and accommodation it is advised you book well in advance, especially this year, as it is becoming more rapidly popular. If there's ever a time to do the NC500, it's this year. You'll get all of the sights and experiences with beautiful beaches as a full-blown summer holiday, just without the COVID restrictions and hassle.
In saying this, it will be the busiest it's ever been, so make sure to evaluate what type of experience you want (camping or hotels etc) and be sure to book far in advance. We also recommend activities, experiences and restaurants far in advance to avoid disappointment. And above all, we remind you to please be respectful of the residents who live within the towns of the featured NC500. Remember to pick up rubbish, keep noise to a minimum, respect parking restrictions and have fun!
Stay on One of Our Famous Beaches
What many people don't realise about Scotland is its collection of stunning natural beaches with bright blue waters and white sand. Here are some of the most stunning locations that would make great summer holidays.
Tolsta Beach, Isle of Lewis
Located in the Outer Hebrides, Tolsta Beach is popular with surfers and wildlife enthusiasts due to the large blue waves and unique sea life it provides. Tolsta itself is an ideal holiday town to stay in, with hotels and cottages available to rent.
West Sands Beach, St Andrews
West Sands Beach in St Andrews is famous for its long, lovely beach - with the well-recognised Old golf course complimenting the stunning views. This beach won the 2021 Scotland Beach Awards - celebrating clean, well-managed and sustainable coastal locations. If you love golf, history and breathtaking scenery, St Andrews is definitely the place to visit this summer.
Aberdeen Beach
If you're looking for a beach that's more central to a city, Aberdeen beach is definitely a shout. With a coastline that stretches 3 km and is populated with dolphins, this beach is filled with water activities and wildlife. If you're a fan of fresh seafood you're in for a treat, as Aberdeen is filled with seafood restaurants serving the fresh fish caught from the sea.
Visit One of Our Landmarks
Scotland is full of beautiful landmarks with historical and thrilling backgrounds. Whether you're looking for an easygoing day out or a wild adventure, here are the top famous Scottish landmarks you HAVE to include in your summer holiday.
Edinburgh Castle
Everyone's heard of it, and if you've been to Edinburgh you've definitely seen it, but not everyone has visited the castle itself or knows the rich history surrounding it. Edinburgh Castle is one of the world's most famous historical castles.
It sits on the massive Castle Rock in central Edinburgh, which has been thought to be occupied by humans since at least the Iron Age.
Royals lived in the castle since at least the reign of David I in the 12th century, and the site continued to be lived in and occupied by royals until 1633. After this, royals lived and visited the castle significantly less, and by the 17th century, it was only used for military barracks. Modern-day research identified Edinburgh castle as "the most besieged place in Great Britain and one of the most attacked in the world". It's safe to say a lot of battles, invasions and historically significant moments happened at Edinburgh castle, making it an important landmark for Scottish heritage.
Loch Ness
Loch Ness is the second deepest loch in Scotland and is definitely the most famous. Located in the highlands amidst the beautiful Scottish countryside, Loch Ness is most known for its famous mystical creature, the Loch Ness Monster. If you grew up in Scotland, chances are you've been enchanted by the legend of the Loch Ness monster. Films have been made, sightings have been claimed, and investigations have been carried out on the myth of Nessie, and to this day, people still visit the Loch to attempt to catch a glimpse.
Nessie has become a mascot for Scotland over the years, and even if she isn't scientifically proven, we still love her. To this day, Loch Ness is one of the most famous bodies of water in the world and is visited by tourists in their masses to try and catch a glimpse of the monster. To see if you can catch a glimpse of Nessie herself, we recommend taking a Loch Ness tour yourself.
Click here
to learn more.
Glen Coe
When visiting Glen Co, the scenery speaks for itself on why it's one of the most visited locations in Scotland. The stunning landscape sits about eighteen miles south of Fort William in the Western Highlands. Glen Coe is a deep glacial trough bounded by steep slopes rising steeply from sea level to summit altitudes over 3000 feet (900 m). Glaciers were present in Glen Coe until around 10,000 years ago and the resultant steep rock walls prove popular with climbers.

Final Thoughts

From tourist hotspots to remote and rural beaches, Scotland has something for everyone this summer. While the weather may be unpredictable, we can guarantee the Scottish food, culture, scenery and people will ensure it's a holiday you won't forget.

Hopefully, see you soon!