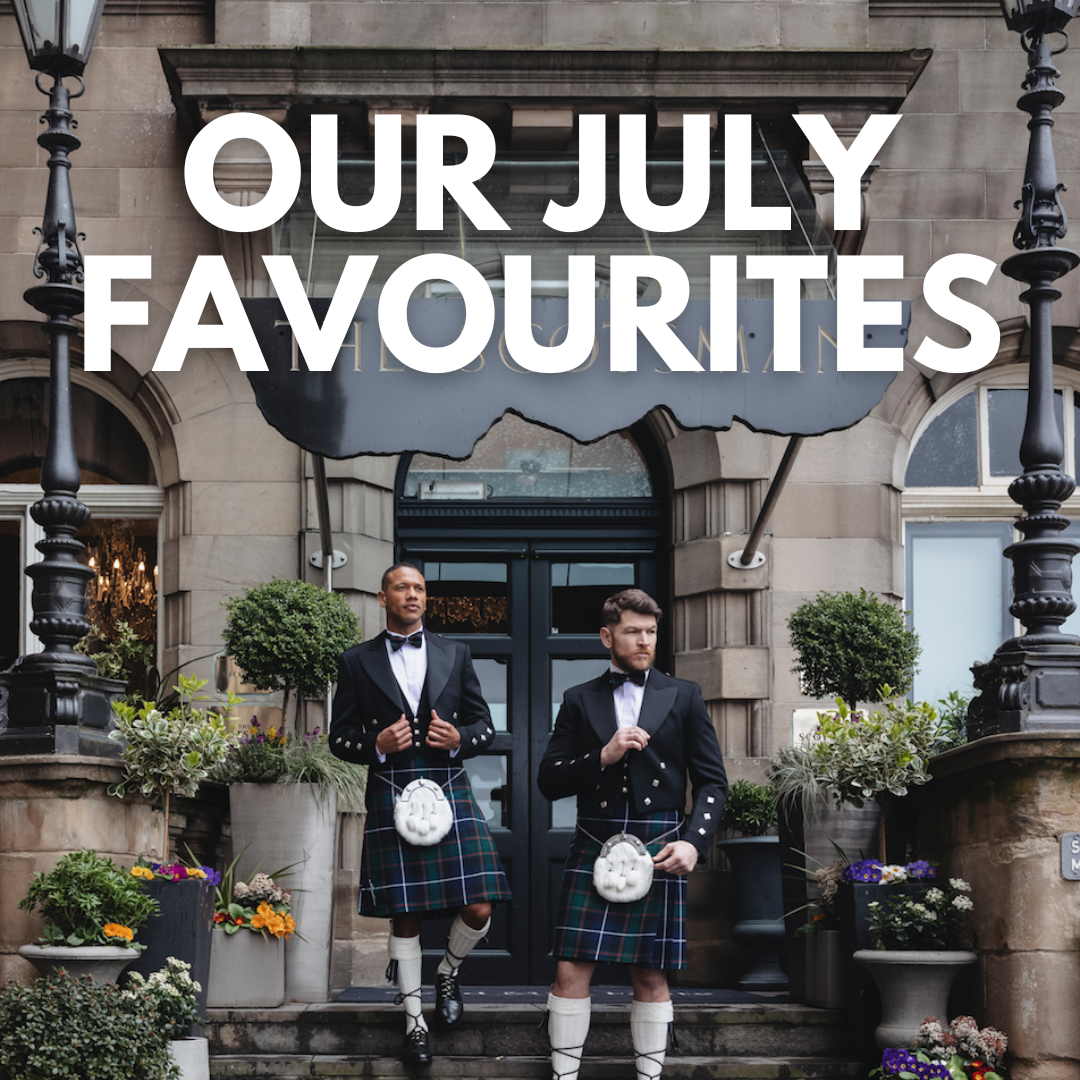 OUR JULY FAVOURITES
We've hit the half way mark on July and what a time it's been! Heat waves, weddings and welcoming back tourists have kept us very busy, and we have been loving embracing the summer season in Edinburgh. Here's our top favourite products for this July.
HARRIS TWEED SMALL BEAULY SHOULDER BAG 
Perfect for summer!
The flap over shoulder bag designed and produced by Glen Appin is the perfect example of modern functionality meeting traditional aesthetic and production. Hand
woven using techniques unchanged for centuries your accessory collection is sure to
be elevated with this bag. Additionally, the bag features the iconic Harris Tweed Authority Certification Trademark Label.
FEATURES
100% authentic Harris Tweed
Eco friendly PU leather
Features a magnetic fastener button and an adjustable/detachable shoulder strap
Dimensions: including handles: 25cm H x 26cm W x 10cm D
Iconic tweed pattern
Click here to view on our online store.
FLY PLAID PRINCE CHARLIE JACKET KILT OUTFIT
The package is suitable for formal events like weddings, proms, ceilidhs, Burns night, formal dinners as well as any other formal dress occasion or event. The Prince Charlie is the traditional full dress formal outfit, a classic addition to any wardrobe and gives you many more options than hiring an outfit each time. Once you have this outfit, all you need for a different look or less formal event, is just a simple change the shirt or jacket and you'll have a completely different outfit.
Designed to make you look great for the best possible price, our in-stock Prince Charlie kilt outfit gives you everything you'll need for a full dress kilt outfit; from a full 8 yard kilt to leather ghillie brogues. 
This package features all of the formal accessories you would expect with a Prince Charlie outfit and comes with one of our 8 yard casual kilts, available in over a dozen tartans. It comes with everything you would need for a complete package that's ideal for all formal occasions and is long lasting.
 Click here to view on our online store.
WOMEN'S ACRYLIC BILLIE KILT
This women's acrylic wool kilt is 16" long and is perfect for a whole range of highland dress occasions. It is extremely good value. Fastened with leather buckles at the side - When wearing a kilt, pleats are facing the back and the flat part is facing the front. Ladies sizes 6 (26") - 20 (40").
This kilt comes with free kilt pin.
Click here to view on our online store.
KHAKI UTILITY KILT
This stylish men's khaki utility kilt has a pocket on each side and is pleated on the back like a normal kilt. The front fastens with two poppers, and 2 side straps as shown. The kilt also has a standard 24" drop.
This kilt is ideal for people who want to look good and have plenty of space to store valuable items. It's a fun twist on the traditional Scottish tartan kilt, making this a must-have fashion accessory.
Click here to view on our online store.
SALTIRE AND LION SEMI DRESS KILT SPORRAN WITH BLACK ENAMEL TOP
This three black calfskin sporran features established traditional tassels and a saltire and lion design on the flap.

Perfect for weddings and events, this sporran includes matching standard fitting sporran chain.
Click here to view on our online store.
WOOL TARTAN PICNIC RUG - JACOB
 This 100% pure wool blanket, with fringed edges is very soft and warm. It can be snuggled under on cold nights, draped over you feet in front of the TV, used for picnics or as a travel rug and would also make a great housewarming gift. Made in Scotland by a specialist wool manufacturer. Dimensions: 60 x 70 inches Available in several other tartans!
Click here to view on our online store.