New Tartan Authority Under Fire
Following a vote at the Scottish Parliament last year an official government register was set up at the National Archives of Scotland, was created. The NAC has recently come under attack from weavers and kilt makers. The NAS took over this job from the Scottish Tartans Authority. The idea behind creating a new body was to boost the profile of tartan and to reach out to people around the world who wanted to create their own tartan. So far there are 6,014 tartans on the database. All well and good, however new the ways of doing things has led to negative consequences according to many experts in the field. Whereas the STA required a commercially woven swatch to be submitted in order for the tartan to be registered the NAS only require a digital swatch. Brian Wilton, of the directors of the STA highlights points out the problems this can cause. "Our policy was to request proof of commercial use of any tartan within a reasonable time after it's registration. NAS chose not to go down that route, with the result that many design become where there is no intention of having them woven." Another difference is that the STA was supported by experts within the industry who could provide guidance. Bill Macnaughton, head of Macnaughton Holdings, a highly respected kilt maker and weaver illustrates concerns held by many. "The NAS don't have the skills to determine what is and what isn't a tartan... If there are too many stripes and lines, it no longer becomes a tartan, but a fashion design."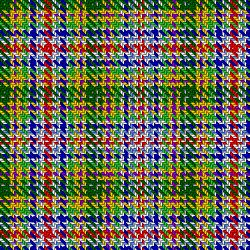 - The registering of tartans such as this one, by the NAS, has been called into question by kilt makers and weavers. In it's defence the NAC argues that the changes have made the industry more accessible to global audiences. "as an online resource for people to research, design their own family tartan and have it woven in Scotland" they also point out that each entry is judged against the Scottish Register of Tartans Act 2008. With the wide level of discontent within the industry it seems clear that any difficulties will need to be ironed out before the new register can meet the needs of people around the world as well as protect one of Scotland's most valuable assets.