Kilt Outfit Walkthrough - Part 3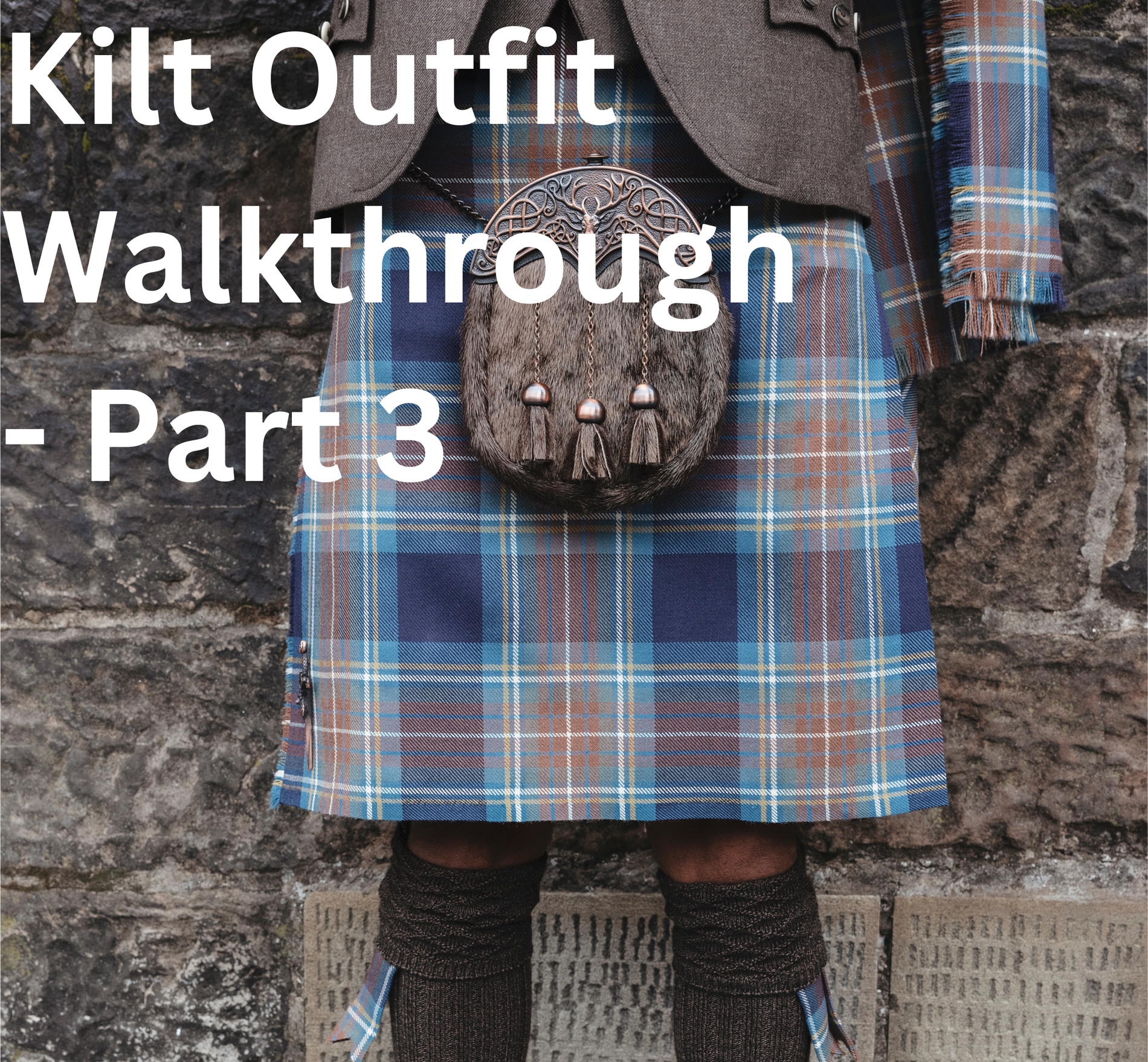 There are 3 main things to consider when it comes to choosing a kilt, these things are tartan, fabric weight and style of kilt.
The tartan used to make a kilt traditionally represent different clans or districts of Scotland and in the modern day most people will still select a tartan which has a familial link to them but this isn't to say that kilt can only be worn by those with family links to Scotland. There are a variety of tartans available which are neutral and not linked to any families in particular, these include Black Watch, Heritage of Scotland and Grey Highlander. Kilts made in these tartans can be worn by anybody regardless of heritage significance.
There are plenty of ways to have the kilt look with a more unique twist to stand out from the crowd such as biassed fronted kilts or contrast kilts. A biassed fronted kilt, as seen below, takes the front panel of the kilt and tilts it on a 45 degree angle so the pattern instead of running vertically and horizontally instead runs diagonally.
The other unique kilt style is the contrast kilt, this style of kilt is made from a tartan of your choice besides the pleats which are box pleats and when opened you can see a plain colour fabric shining through the gap as can be seen below. The other alternative is to have a kilt made from Black Isle Tartan fabric and select a different tartan to be added into the pleats, this can also be seen below.
The weight of the wool fabric used to make a kilt varies from lightweight 10 oz fabric to 16 oz heavyweight fabric, some kilts are even made in regimental 18 oz fabric but this usually only for military or pipe band kilts. Lightweight kilts are preferred by those in warmer climates as it allows you to still wear the traditional outfit but not have to worry about the heat of a kilt. A lightweight kilt is similar to a heavyweight kilt but will not swing in the same, due to the lightness of the fabric. The only other difference between lightweight and the other tartan fabric weights is that it can have a smaller sett on the pattern.
The medium weight fabric provides an in-between for those who want the look and swing of a heavyweight kilt but do not want to have to carry around that weight as this is the main difference between the two. The medium weight fabric is usually 13oz fabric and although there does not seem like a large difference between this and the 16 oz heavyweight fabric but when wearing the lighter kilt you can feel the difference in this weight. Both of these fabrics have the same drape and swing when worn.
There are 2 main styles of traditional kilt, these are 5 Yard and 8 Yard kilts. As the name suggests, a 5-yard kilt is made from approximately 5 yards of fabric, while an 8-yard kilt uses around 8 yards of fabric.
This additional fabric in an 8-yard kilt allows for more pleating and. a more pronounced and fuller pleating effect. The additional fabric in an 8-yard kilt also adds to its weight and drape. An 8-yard kilt tends to be heavier and drapes more elegantly due to the extra material used in its construction, while a 5-yard kilt is lighter and may have a more casual and relaxed appearance.