Key figures in tartan's history
Bonnie Prince Charlie
Stuart Charles Edward, also know as The Young Pretender, and Bonnie Prince Charlie was claimant to the British throne and led the Scottish Highland army in the 1945 uprising.
He was the son of James Francis Edward Stuart and grandson of James II of England, born in 1744, after his father had obtained the support of the French government invade England, Bonnie Prince Charlie went to France to assume command of the French expeditionary forces. Unfavorable weather and the mobilization of the British fleet led to cancellation of the plan by the French government.
Charles raised a large enough force to enable him to march on the city of Edinburgh, which quickly surrendered. In September 1745 he defeated the only government army in Scotland at the Battle of Prestonpans.
Having taken Carlisle, Charles' army progressed to Derby. Here, despite his objections the decision was taken by his council to return to Scotland, due to the lack of the support from English Jacobites. By now he was pursued by the King George II's son, who caught up with him at the Battle of Culloden on 16 April 1746.
At Culloden his forces were utterly routed . He was hunted as a fugitive for more than five months, but the Highlanders never betrayed him, escaped to France in September 1746. In 1748 he was expelled from France in accordance with the Treaty of Aix-la-Chapelle (1748)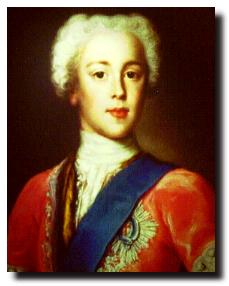 George II
George II was King of Great Britain and Ireland from 11 June 1727 until his death. He also served as Duke of Brunswick-L