James Bond's Scottish Connections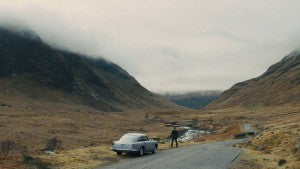 Author Ian Fleming spent most of his childhood holidays at his Scottish grandfather's estate in Arnestdale in the Highlands, a place where he undoubtedly took inspiration from when writing his novels about the famous British MI6 spy. It is believed that 007 was based on Sir Fitzroy Maclean, a Scottish soldier, politician and writer.
In the novel, You Only Live Twice, it is revealed that Bond is the son of a Scottish father, Andrew Bond, of Glencoe. During his teen years, Bond is sent to Fettes College in Edinburgh, his father's school, to study.
The Bond movies have also numerous Scottish connections. Sean Connery comes to mind as the most obvious one of course! Connery was born in Edinburgh and comes from a working class family. He starred in Dr. No, From Russia with Love, Goldfinger, Thunderball, You Only Live Twice and Diamonds Are Forever. He received a Lifetime Achievement award at the 1996 Golden Globes and was knighted in 2000.
The enchanting Eilean Donan Castle, located in the Western Highlands, can be seen in The World Is Not Enough, when it became "MI6 headquarters, Scotland" after the organisation's London base was damaged in an explosion.
Glencoe was featured briefly in Skyfall as Daniel Craig and Judi Dench escaped north in an Aston Martin DB5. Other Bond Scottish locations include Gare Loch in The Spy Who Loved Me and Loch Craignish in From Russia With Love.
The name's Bond, pet. James Bond.