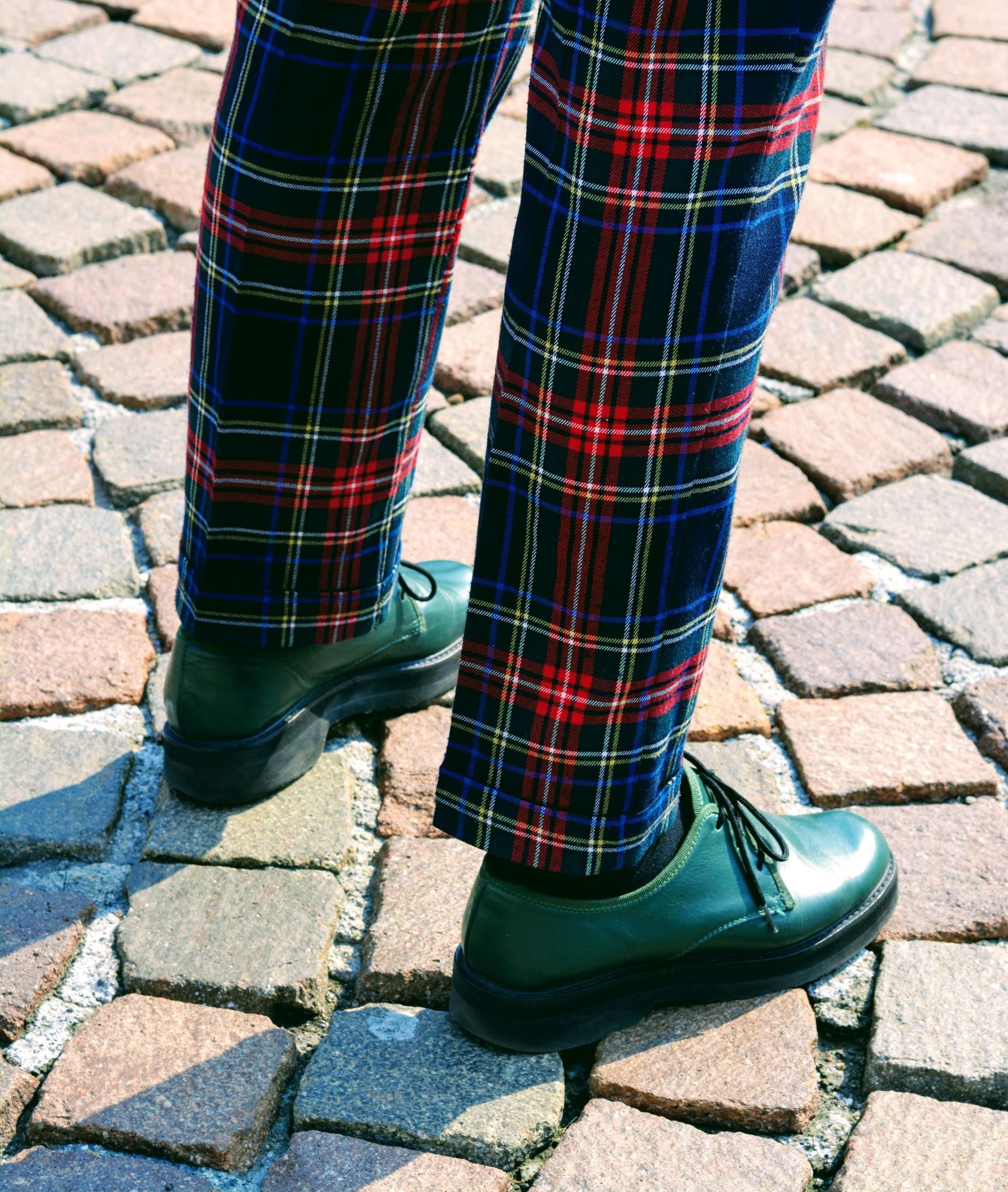 Tartan trousers are a staple in any Scotsman's wardrobe. Known as "tartan trews" in Scotland, this pair of iconic pants are definitely a fashion statement.
In this article, we'll list the various types of tartan trews available and explain the suitable differences between them. We'll also discuss how to style these tartan pants in for both formal and informal events.
While women's tartan trousers have become an incredibly popular trend, this article will solely focus on styling tartan trousers for men.
Types of trousers
There are many different types of trousers, in a variety of unique tartan swatches. To the untrained eye, you may not notice the subtle differences in the tailoring of various types of trousers. Each one, however, showcases unique craftmanship and distinct features.
Here are our top three favourite types of tartan trousers:
Fishtail back trousers
Trousers with braces are a timeless classic, showing both sophistication and quirky fashion depending on how you style them.
Fishtail back trousers are designed specifically to accommodate braces or suspenders. They feature a triangular notch in the back which looks similar to a fishtail. This shape makes them ideal for attaching braces, as they support brace buttons and accommodate the pulling from the suspender straps.
Typically showcasing a tapered fit, this trouser is ideal for formal events. Paired with a Prince Charlie jacket to emphasize the high waist design, these trews are a great alternative for those that do not fancy a kilt.
Military style tartan trews
Military tartan trews also feature a fishtail back, capable of secure braces in place. These trousers are constructed similarly to how they would have traditionally been made in the army.
The difference in these tartan trews, however, is that they do not have a side-seem. Further, with military-style trews, the pattern on the inside seam will always be perfectly matched to give a seamless effect.
This design showcases the precision of the craft and gives an overall flawless look – exactly the qualities you would want to have in a military uniform! For this reason, they are well suited to formal occasions where you want to look your absolute best, such as weddings and graduation ceremonies.
Argyle tartan trousers
Argyle, or "Argyll", trousers are the most common type of tartan trews. These trousers are similar to generic suit pants, meaning they have unending versatility.
The main exception between these tartan pants and typical suit trousers is that have a higher waist to complement the cut of an Argyle suit jacket. This makes the measurement of the outside leg of the trews between two to three inches longer than standard suit trousers.
Due to the simplicity of the cut of these trousers, they can easily be dressed up or down for any event. From formal occasions to informal gatherings, these trews are a wardrobe essential.
What to wear with tartan trews
Since tartan trousers have an iconic style, they will never go out of fashion. There are countless options for styling a good pair of tartan trews, no matter the occasion.
Informal occasions
For an informal look, we recommend pairing Argyle tartan trousers with a standard collar shirt. The standard collar has a less formal appearance compared to other shirt types, particularly when worn with a few open buttons at the chest.
Fully embrace this casual look by ditching the suit jacket and tie. If the weather takes a turn for the worse, you can always layer with a leather jacket. If you want to effortlessly elevate your look, accessorize with a Celtic pocket watch and a trusty pair of moccasins.
A look like this is perfect for events such as birthday parties or christenings, especially amongst younger crowds. Wearing tartan trews in this way feels less stuffy and ceremonial, allowing you to showcase your Scottish heritage whilst staying relaxed and comfortable.
Formal events
For occasions where formal wear is required, pair fishtail back tartan trews with some expertly crafted braces. Wear a Victorian collar shirt, as this crisp neckline perfectly accentuates a symmetrical bow tie. If possible, match the tartan of your bow tie to your trousers for an extra level of coordination.
Top with a staple Prince Charlie jacket as this short jacket will flawlessly meet the trews at the waist. For extra drama, top with a coo-ordinating fly plaid pinned to the shoulder. As the trousers are full length, there is no need to accessorize with the traditional kilt hose. Instead, focus on other customary accessories such as the sporran.
Incorporating tartan trews into a traditional Prince Charlie outfit is ideal for anyone that is not comfortable wearing a kilt. Tartan pants complement this customary aesthetic, making them ideal for formal occasions such as weddings, graduations, and balls.
Final thoughts
Wherever you wear your tartan trews, you can feel confident knowing that you are showing off your Scottish heritage with pride!
Be sure to use our tartan finder to find your clans' tartan mix. That way, you'll be able to find matching trousers, ties, fly plaids, and more all in the same pattern.