How to Throw a Vegan Burns Supper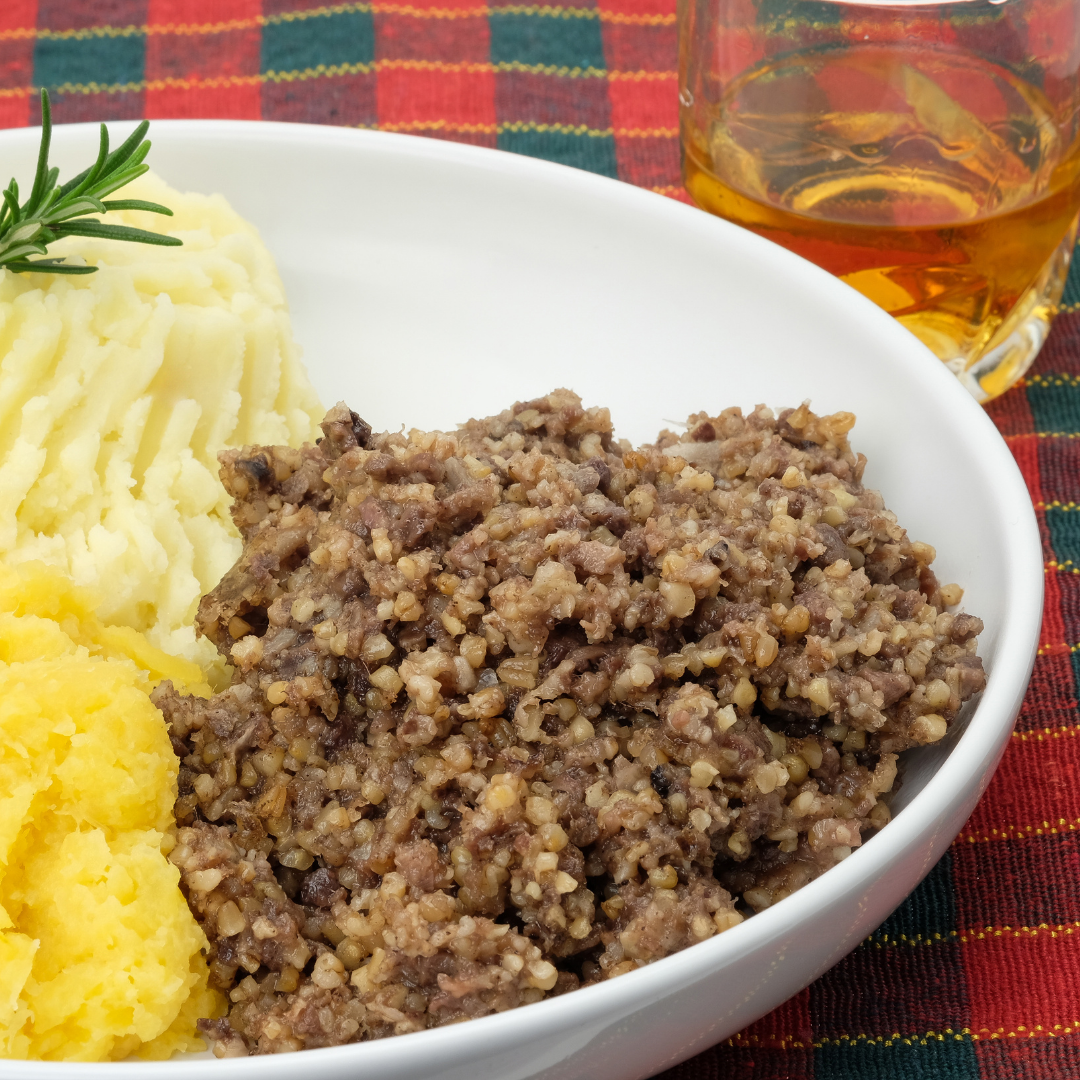 Are you participating in Veganuary? Or perhaps you've taken on being vegan as a lifestyle choice? Either way, we're certain you're going to want to remain involved with the rich and traditional Scottish cuisine that's served on Burns night. With the 25th rolling round once again, we're here to show you that a full Burns Supper is surprisingly easy to adapt to being vegan. Whilst being notorious for it's rich and varying meats, you can still throw a full Burns supper with all the bells and whistles, and can even still give a toast to the Haggis.
 The easy bit – the drinks.
 The good news is, most Scottish whiskeys are vegan. With whiskey being the staple drink served at Burns Suppers, you can't really go wrong with a good bottle put at the centre of the table. Burns night is famous for it's toasts, with everything receiving a poet toast throughout the night, even the haggis!
If you're looking to mix things up a bit, an easy suggestion is to make a whiskey based cocktail. One of Scotland's most known whisky cocktails is lovingly known as the Penicillin, easy to make and certainly medicinal. Here's what you'll need:
2 ounces blended Scotch
3/4 ounce fresh squeezed lemon juice
Ice
1/2 cup honey
1/2 cup water
3-inch piece of peeled ginger
To make is very simple, firstly you'll need to create a syrup with the honey and ginger. Add the honey, water, and ginger root to a pot and bring to a boil. Reduce heat and simmer for 5 minutes, then allow the syrup to cool. You'll need to the strain and store in the fridge until it's chilled.
Making the cocktail is also very simple. Pour the blended Scotch, lemon juice, and honey-ginger syrup into a shaker. Add ice, shake, and strain into a rocks glass with ice. Float the Islay scotch on top by pouring it gently over the back of a spoon. Garnish with candied ginger, lemon peel, or both. Easy, vegan, and your guests will be impressed!
Starters?
People are divided on a starter for a Burns Supper. Some feel it isn't needed due to the heaviness of the Haggis Neeps and tatties, but others feel it's nice to put on a three-course meal for the big night. If you opt into serving a starter, we recommend a traditionally Scottish lentil soup. For this, you will need:
2 cloves of garlic 
1 white onion
4  carrots
4 stalks celery 
3 cups of baby potatoes 
4 cups vegetable broth
1 cup uncooked green or brown lentils (thoroughly rinsed and drained)
You can make this lentil soup in one pot, meaning it's easy to throw together and allow to simmer while you work on your mains. Grab a large pot and sauté together the garlic, carrot and onions until they've gone soft and slightly brown on a low heat. You can also season with salt and pepper to taste at this stage. Then, add potatoes and continue to stir until they also go brown.
At this stage, you can add the vegetable broth and lentils, allowing everything to infuse together. Let everything simmer for around 20 minutes.
The Main Event:
Of course, you'll need to serve haggis as the main event. Luckily, this is easy to do vegan, and retain that classic haggis taste! Vegan haggis is easily made from scratch, and you can use mushrooms, lentils and barley to ensure the texture is similar to the meat. We recommend following this recipe from BBC Good Foods for the best results.
https://www.bbcgoodfood.com/recipes/vegan-haggis
However, if you're not feeling up to the preparation, almost all major super markets now sell vegan haggis, so it's easy to get your hands on store bought.
The Sides:
Neeps and tatties are of course, easy to make and naturally vegan. If you didn't know, neeps and tatties is a traditionally Scottish side dish, and are quite literally just mashed swede and potatoes. To make this, you'll need the simple ingredients of
1 kg swede 
1 kg potatoes 
1 knob of vegan butter
To make is extremely straightforward. Cut the swede and potato into chunks, and bring a large put of water to boil. Add the swede and allow to boil for 15 minutes. Then, add the potatoes and allow to boil for a further 15 minutes. Once everything is cooked through and soft to touch, drain the contents and then add back to the pot. Add salt and pepper to taste and a knob of your favourite vegan butter or margarine, and get mashing! Once everything is mashed thoroughly together, you're ready to serve.
Desert
If you've got room for desert and are looking for a vegan Scottish recipe, look no further than the Scottish Cranachan. This dish is made of raspberries folded into vegan cream flavoured with syrup, whisky and toasted oatmeal.
To make you'll need:
2 tbsp medium oatmeal
300g fresh British raspberries
caster sugar
350ml vegan cream (we suggest store bought Alpro Soya Cream)
2 tbsp  maple syrup
2-3 tbsp whisky, to taste
Firstly, you'll need to toast the oatmeal by laying it out on a baking sheet and grilling it in the oven. This will toast fairly quickly and usually takes a little while so keep an eye on it until you can smell and see it's gone darker.
Then, create a raspberry puree by smashing half of your raspberries together, sieving the fruit and adding casting sugar.
Whisk the cream until it's set, and stir in the syrup and whisky, ensuring not to over-whip the cream.
Finally, stir in the oatmeal and whisk lightly until the mixture is just firm. You can then alternate layers of the cream with the remaining whole raspberries and purée in a stem glass or serving dish. Allow to chill slightly before eating.
By now your guests should be sufficiently full, drunk and merry. Many won't even realise the full three-course meal and cocktails you've served have been completely vegan, with no traditional sacrifices made. We hope you have a lovely Burns night!