GET PREPARED FOR XMAS WITH THE SCOTLAND KILT COMPANY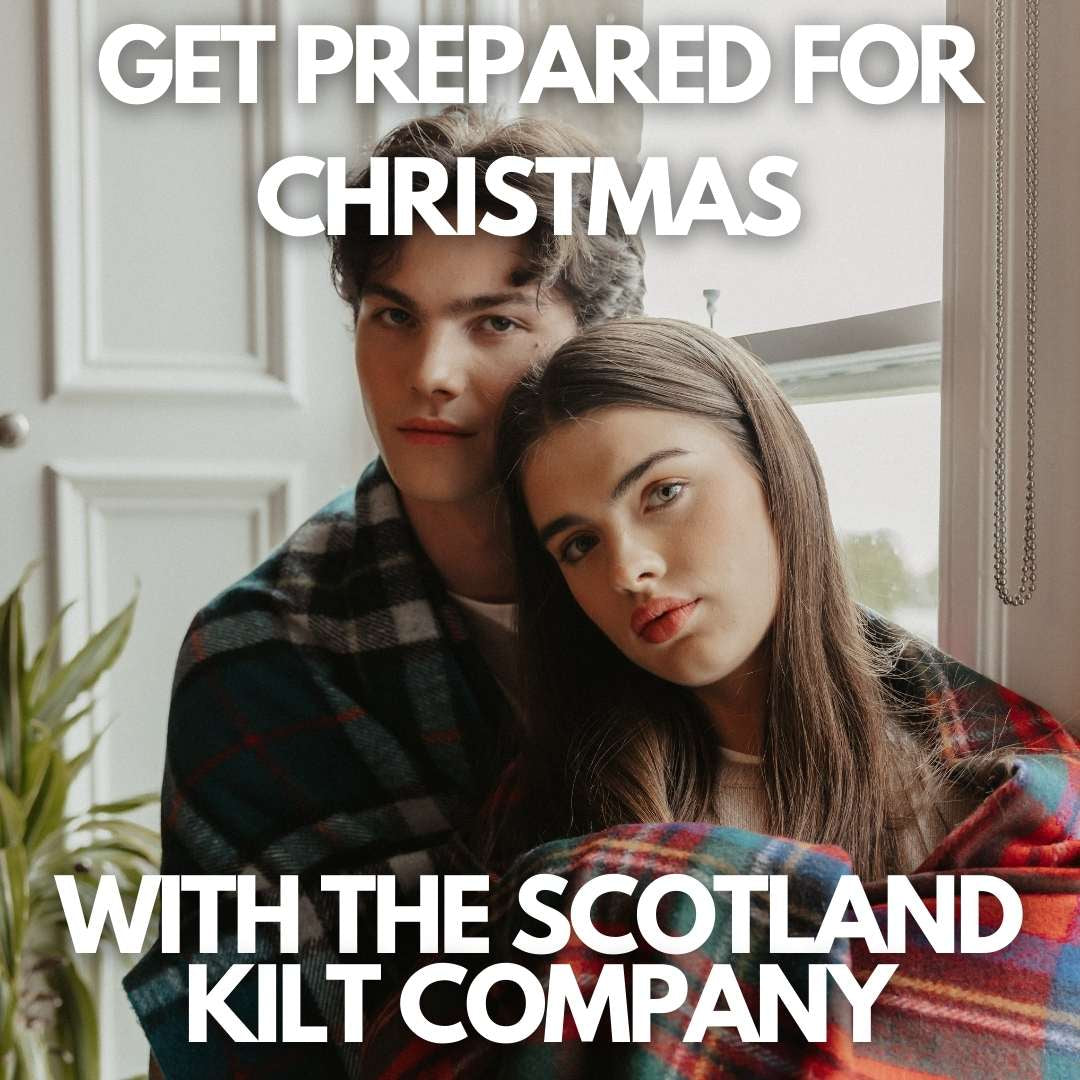 Christmas is coming! It's time to start organising Christmas presents for loved ones, and we've put together a Christmas gifting guide to help! Whether you're looking for that perfect Scottish gift for him, her or them, here are our suggestions for the perfect present.
MEN'S KILT, 8 YARD POLYVISCOSE - HERITAGE OF SCOTLAND
With a regular drop 24".
The Kilt has two leather straps that gives the kilt a little bit of give or take on the sizes for example if you are a size 28" you could tighten the up a size 30" to fit.
The Kilt has a 100% Cotton lining for a soft feel when being worn.
This is an excellent first purchase kilt, ideal for the Football, Rugby Games, Scouts, or simply fashion wear.
Material length is a full 8 yards, 16oz heavyweight poly viscose.
To view on our online store click here. 
MENS HARRIS TWEED CLASSIC FIT JACKET - SCARISTA 
DESCRIPTION
Classic fit. Two button, single breasted. Angled exterior pockets. Three interior pockets. Side vents. Fully lined. Four button cuff. Dry clean only
These world famous Harris Tweed jackets, are superbly tailored, hard wearing and warm. When purchasing one of these jackets you are guaranteed exceptional quality. By law Harris Tweed must come from the Outer Hebrides, and be hand woven from local wool.
All our tweeds are stamped with the authentic, official gold crossed orb mark of the Harris Tweed Authority.
This iconic Scottish fabric is some of the finest in the world.
To view on our online store click here. 
PEWTER THISTLE KILT PIN
This large pewter thistle kilt pin is an ideal accessory to your Highland Wear Outfit.
Made from the finest pewter and measures approx 4 inches long.
Features a thistle motif - a distinctive and stylish item.
The kilt pin has a locking pin on the back to hold the apron of your kilt down.


To view on our online store click here. 

FOR HER
HARRIS TWEED LARGE SPEY TOTE BAG WITH SHOULDER STRAPS - 14 COLOURS
A lovely and authentic Harris Tweed bag brought to you straight from the heart of
Edinburgh! With features sure to compliment a contemporary or classic style this bag
can be a real staple of your everyday outfit. Fitted with adjustable handles and
detachable and adjustable shoulder straps this bag can fulfil any carrying
requirement. Additionally, the tote bag features the iconic Harris Tweed Authority
Certification Trademark Label.
To view on our online store click here. 

SHETLAND WOOL WOMEN'S KILT - FLORA - BLACK WATCH ANTIQUE
This ladies Shetland wool tartan kilt is made in Scotland using 100% Shetland wool.

Being made in Scotland, you can be assured of the quality and authenticity of this kilt. 
To view on our online store click here. 

GLENMORE 100% CASHMERE TARTAN SCARF - 12 TARTANS
A tartan scarf made from 100% luxurious cashmere, ideal for giving you a touch of colour and keeping you warm for the winter.
A great gift and easy to couple with classic and contemporary looks.
Scarf Dimensions: approx 165cm x 26cm (65" x 10. 5") with 8cm / 3'' fringe on either side.
Rachael is wearing the Buchanan Antique Scarf.
To view on our online store click here. 

GIFTS FOR THEM 

HARRIS TWEED DOG COAT - RED/GREEN CHECK
Genuine Harris Tweed dog coat/jacket. Be the envy of every dog and dog walker in the park with one of these excellent doggy coats in a range of genuine Harris Tweed colours. Each coat fastens snuggly and securely with velcro ends.

Made with genuine Harris Tweed and displaying the official Harris Tweed stitched logo these jackets will be certain to keep your dogs dry and warm in the winter months yet the lightweight nature of these jackets will help keep your dog cool in the warmer months. A range of sizes are available from size XS, suitable for small breeds and puppies up to size 4 suitable for medium sized dogs.
To view on our online store click here. 

6OZ HARRIS TWEED HIP FLASK - 6 COLOURS
This lovely Harris Tweed Hip Flask is a fantastic, premium hip flask with PU fake leather trims. Look the part and tap into Scottish tradition with this hip flask brought to you straight from the heart of Scotland.
Comes in cardboard presentation box.
Made of the finest quality materials, The Scotland Kilt Company presents this luxury  hip flask, Drink responsibly!