Finding the right Sporran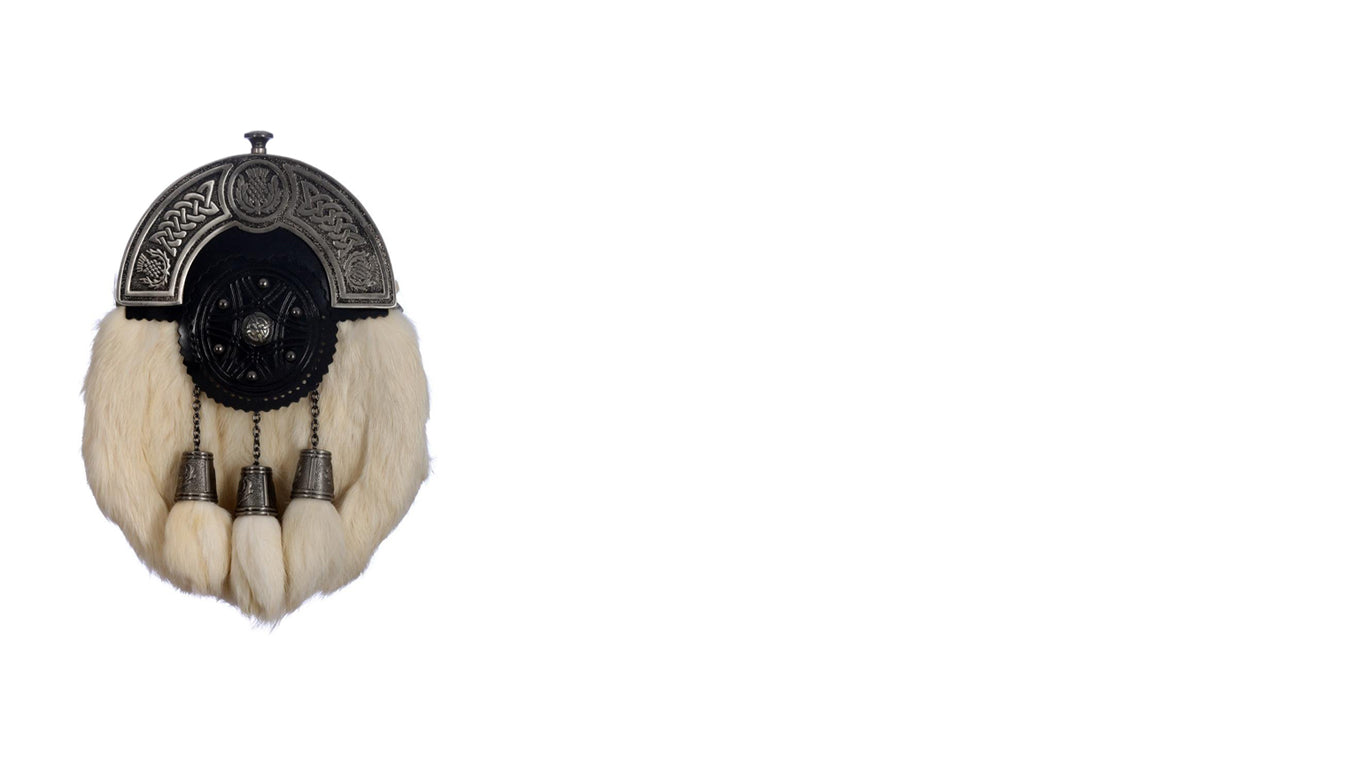 The Sporran is a small pouch that sits comfortably on the wearers waist and was originally created to store Highlanders oatmeal. The Sporran is integral when worn with a kilt as the kilt has no pockets to hold personal belongings. These days the Sporran has become more of a stylish item and now can be used as an accessory that is the main highlight of your outfit whilst still being practical. The word "sporran" is Gaelic for purse or pouch and was often made from the skin of a deer or a calf. A leather belt holds the sporran over the wearers hips and belt buckle so it stays in place and gives some protection for lightweight kilts.
When purchasing a sporran there are a few things to keep in mind: the occasion, the style and of course your own personal preference. There are three main types of sporrans – full-dress, semi-dress and day/leather sporrans.
The day or leather sporran is self explanatory. These types of sporran's are made exclusively of leather or synthetic leather and can be worn for day events or with more casual kilt outfits. A day sporran can have tassels on the front or even a Celtic design near the top but the rest will be entirely leather. The stud that closes the sporran is not as discreet as some more expensive sporrans however. Day sporrans pair well with Harris Tweed jackets to provide a slightly more casual outfit.
- Black Leather Celtic Embossed Pin Lock Sporran
The semi-dress sporran has a similar shape to it's leather counterpart in that it closes on the front of the sporran. It tends to have hair hide on the front but is not as lofty as the full dress sporrans. It has a plain leather edge and often features a Celtic design on the flap for a more decorative appeal as well 3 tassels.
- Semi Dress White/Black Rabbit Sporran
The full dress sporran is the image that most people conjure up when thinking of sporrans. It is usually worn with a Prince Charlie evening outfit for more formal occasions. The sporran hair was most commonly found from an otter, badger, seal or a fox. Scots would use the furs and hair from an animal that has had another purpose in life e.g. meat for food.
- Black Calfskin Full Dress Sporran
However, with changing views, the awareness of animal cruelty and the 2007 legislation introduced by the Scottish Government to protect endangered species that had previously been popular and traditional for sporrans, you can now get synthetic furs instead which can look incredibly realistic. You should also never think of a sporran as just a pocket for holding whisky or a phone as a sporran held at the national Scottish museum can hold up to 4 pistols!