Brighten the Rainy Days with our Tweed and Tartan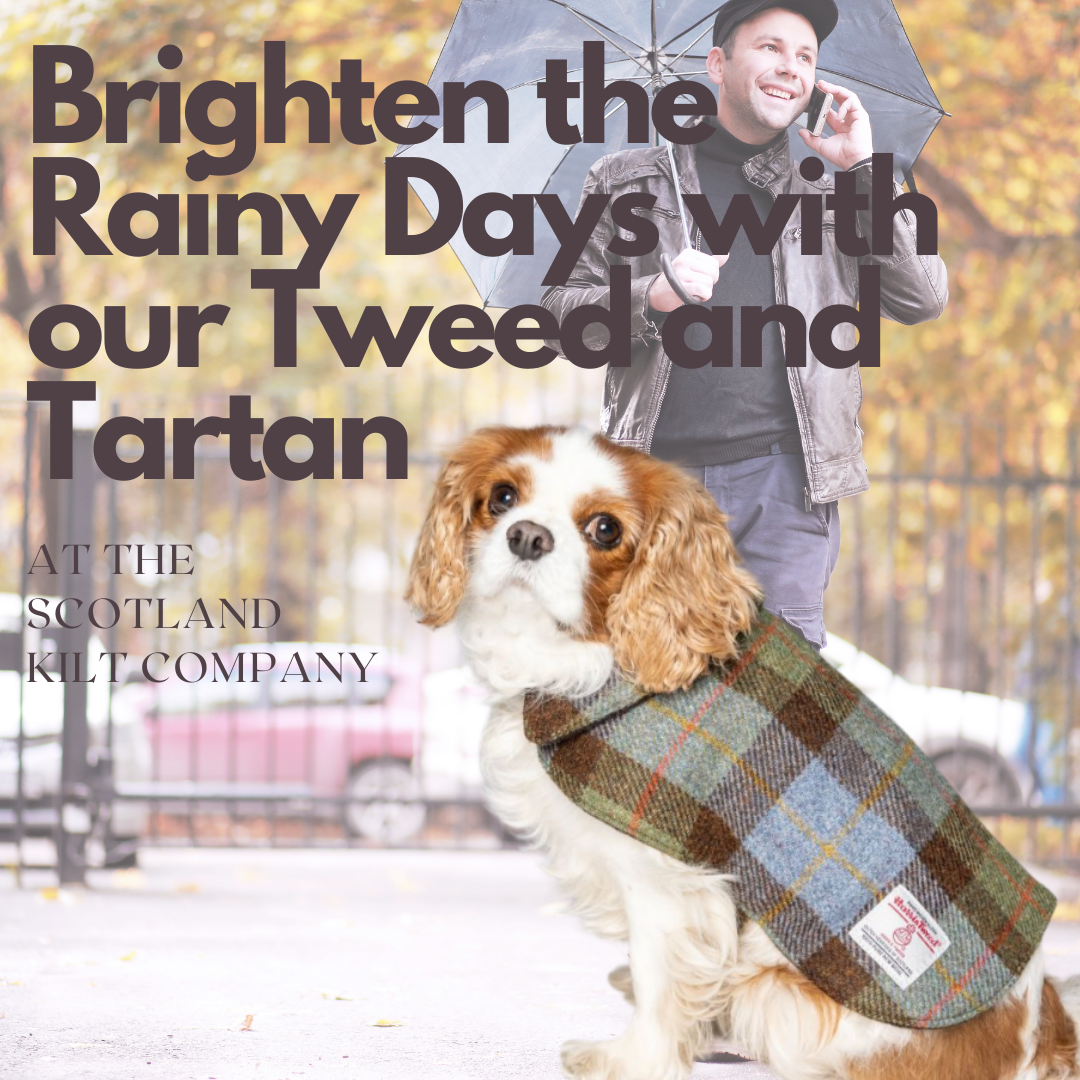 Brighten the Rainy Days with our Tweed and Tartan
The May showers are certainly making an appearance this week, but don't let the drizzle get you down! We have restocked our best selling Harris Tweed bags, dog jackets and tartan blankets to keep you cosy. Here are our best sellers back on our online store this week.
HARRIS TWEED ALMOND SQUARE MINI BAG - 15 COLOURS

Made from genuine Harris Tweed Wool the Almond Sqaure Mini Bag is the perfect
option to enhance your accessory collection. Fitted with an adjustable strap with
functionality in mind you will exude confidence and style with the classic designs
produced by Glen Appin. Additionally, the bag features the iconic Harris Tweed
Authority Certification Trademark Label.
FEATURES
100% authentic Harris Tweed
Made from eco friendly PU leather
Dimensions: 19cm x 21cm x 7cm


Comes with an adjustable shoulder strap

Iconic tweed pattern
Click here to view on our online store. 
HARRIS TWEED BANNOCK ROUND BAG - 11 COLOURS
Harris Tweed 'Bannock' Round Bag. 100% Wool Harris Tweed outer, Polyester lining and adjustable PU shoulder strap. Cross body. Zip closure.
FEATURES
100% authentic Harris Tweed
Eco friendly PU leather
Dimensions: 20cm diameter and 7cm deep.
Iconic tweed pattern
HARRIS TWEED MINI BACKPACK TUMMEL


This handy backpack is the newest addition to our Harris Tweed accessories range.
Small yet highly practical, it will complement any outfit. Featuring adjustable back
straps and ECO friendly PU leather lined with polyester you can carry your everyday
essentials knowing you're backpack is produced ethically and to the highest
standards.
FEATURES
100% authentic Harris Tweed
Made from eco friendly PU leather
Dimensions: 26cm x 21cm x 12cm


Adjustable strap

Designed with phone pocket to back, magnetic clasp and inside zip

Iconic tweed pattern
https://www.thescotlandkiltcompany.co.uk/products/harris-tweed-mini-backpack-tummel
HARRIS TWEED DOG COAT - RED/GREEN CHECK
Genuine Harris Tweed dog coat/jacket. Be the envy of every dog and dog walker in the park with one of these excellent doggy coats in a range of genuine Harris Tweed colours. Each coat fastens snuggly and securely with velcro ends.

Made with genuine Harris Tweed and displaying the official Harris Tweed stitched logo these jackets will be certain to keep your dogs dry and warm in the winter months yet the lightweight nature of these jackets will help keep your dog cool in the warmer months. A range of sizes are available from size XS, suitable for small breeds and puppies up to size 4 suitable for medium sized dogs.
WOOL TARTAN KNEE RUG - RAMSAY BLUE
This 100% wool traditional Scottish Ramsay Blue tartan rug, with fringed edges is very soft and warm. It can be snuggled under on cold nights, draped over you feet in front of the TV, used for picnics or as a travel rug and would also make a great housewarming gift. These popular blankets are cut to a smaller size, which makes them perfect for wrapping around your shoulders or, as the name suggests, over your knees.
Woven from wool, these blankets are durable and versatile. The smaller size also lends itself well to add a touch of rustic charm to cosier spaces.
https://www.thescotlandkiltcompany.co.uk/products/scottish-wool-tartan-blanket-rug-throw-ramsay-blue