Accessorise Accordingly with The Scotland Kilt Company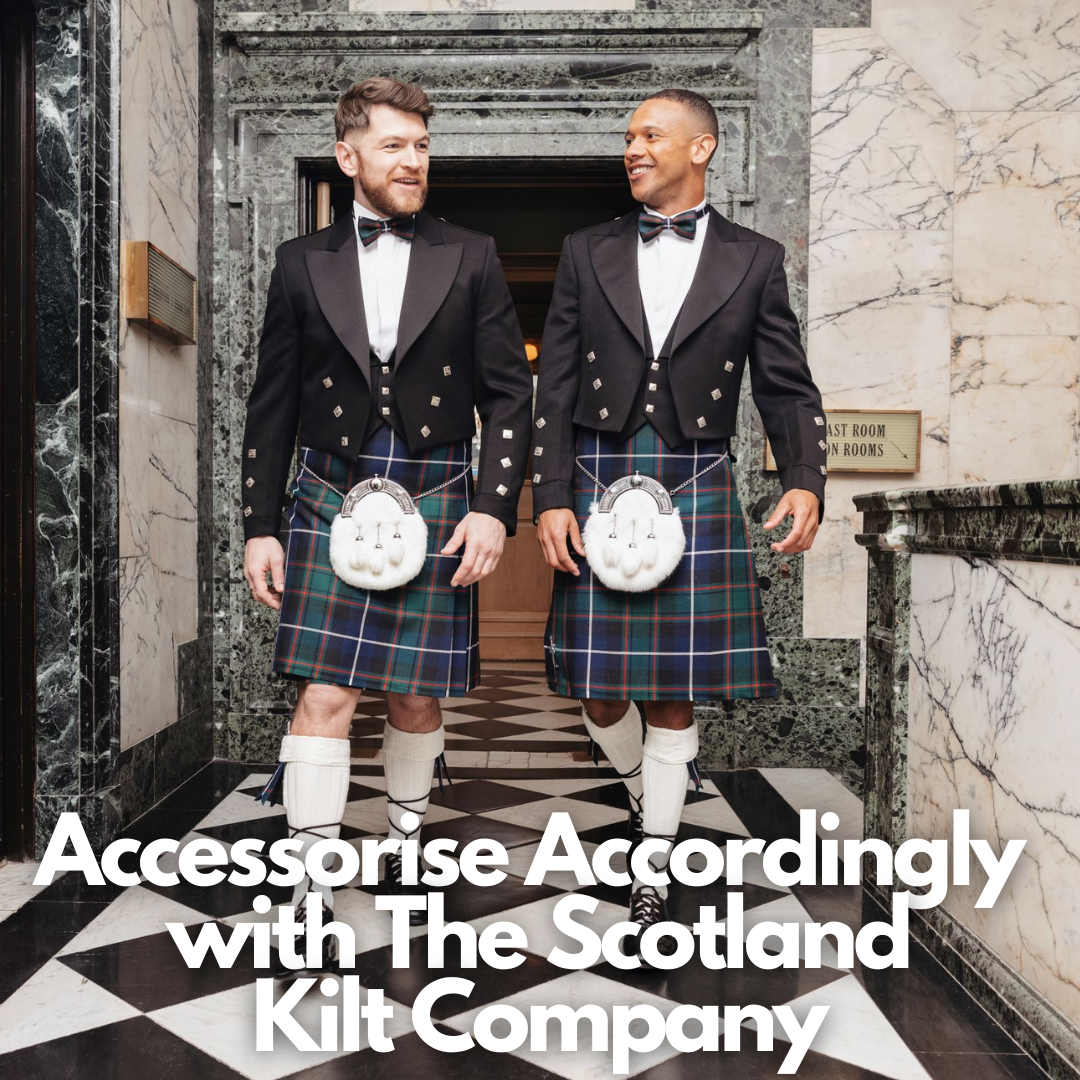 It's all in the details.
Kilt outfits are defined by the small traditional details that make the moment memorable. Get it right with the Scotland Kilt Company. We have a diverse range of kilt accessories to suit everyone. Whether you're looking for an established kilt pin, traditional sporran or simple socks and kilt flashes, we have you covered. Here are our favourite kilt accessories.
CELTIC BROAD SWORD STYLE KILT PIN - CHROME/ANTIQUE FINISH
This solid steel kilt pin of a classic sword design has a chrome finish and is perfect for any Scottish Highland outfit. The traditionally designed pin is best used for the perfect finishing touch for a kilt, additionally it is used to hold the apron of the kilt down when it's windy.
Perfect for traditional Scottish events. 
To view on our online store click here.
100% COTTON KILT FLASHES – RED
Shantung effect kilt flashes made from 100% cotton in royal Red. These flashes are complete with elasticated garters with hook fastening. Flashes, sometimes called "flashers" are strips of material that hang below the cuff of your kilt socks. Kilt flashes also double as garters to help keep your Kilt Hose in place.
An essential for any kilt outfit. 
To view on our online store click here.
SALTIRE AND LION SEMI DRESS KILT SPORRAN WITH BLACK ENAMEL TOP
A sporran is a small pouch worn around the waist so as to hang in front of the kilt as part of men's Scottish Highland dress.
This traditional Scottish sporran features three black calfskin tassels and a saltire and lion design on the flap. This sporran includes matching standard fitting sporran chain so you're ready to go. 
This sporran is the perfect size fop storing your wallet and keys when partying! 
To view on our online store click here.
MEN'S BUDGET HOSE - ECRU
These men's kilt hose socks are an essential element to an established kilt outfit. Designed for wearing with a Scottish kilt, however many people enjoy wearing them for wearing with boots for walking and hiking. 
To view on our online store click here.
CELTIC KNOT BELT BUCKLE - ANTIQUE FINISH
Belt Buckle, Celtic Knot Design. This buckle features a Celtic knot in each corner with a mirror design centre.
Designed with a traditional antique finish. 
To view on our online store click here.
Perfect for weddings and celebrations, this gent's pre-tied polyester bow tie in black with clip fastening is the ideal finishing touch.
With a knot already in place and an adjustable strap to fit up to a 20 inch neck, which ensures the best fit possible, this classic bowtie is effortlessly elegant.