5 Upcoming Events in Scotland this Autumn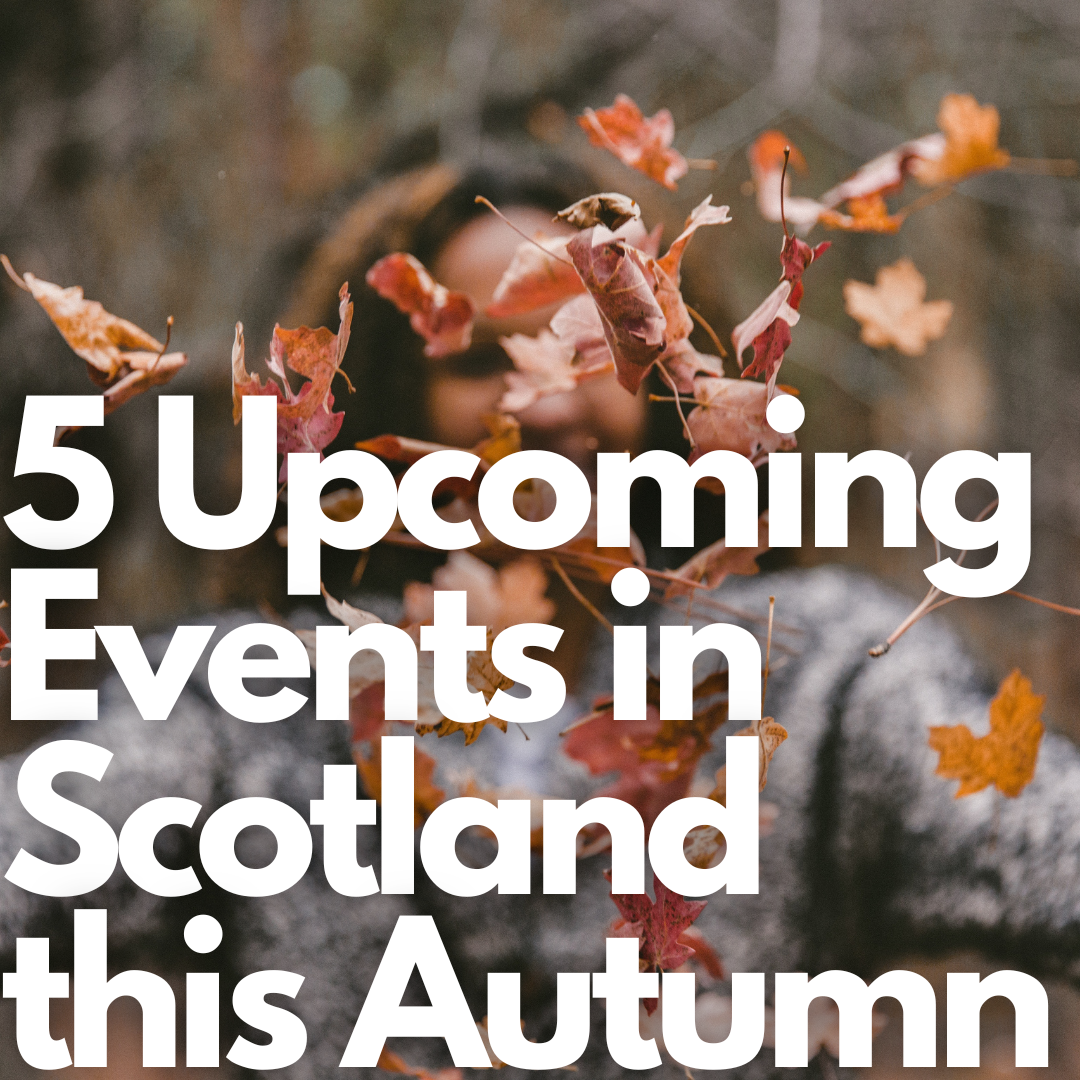 5 Upcoming Events in Scotland this Autumn 
Summer blues got you feeling restless? Missing the busy atmosphere the warmer months bring? Not to worry! Despite summer coming to an end, Scotland has upcoming autumn packed with a variety of fun events. From book festivals to wine tastings, there's something for everyone. We have compiled our top 5 upcoming events in Scotland this autumn that you don't want to miss.
Wigtown Book Festival 2022
For 10 days each autumn, a small town in the southwest of Scotland becomes the cultural heart of the nation. With more than 200 events for adults and children, Wigtown Book Festival has a story for everyone. What will yours be?
Encounter bestselling authors including Robert Harris, Lisa Jewell, Jeremy Bowen and "Red Shepherdess" Hannah Jackson. Explore a world of fresh ideas from some of the country's leading writers and thinkers. Soak up the atmosphere of Scotland's National Book Town at festival time, browsing its many bookshops and antique dealers. Then while away the evening with outdoor cinema, star gazing, dancing or whisky tasting. Or wind down gently with a cup of cocoa at our nightly Book at Bedtime.
Tiree Wave Classic - 8 – 14 October 2022, Isle of Tiree
The Tiree Wave Classic is the longest-running professional windsurfing event in the world. It was founded in 1985 and has run to the present day. It showcases the best of the UK's windsurfing talent across several fleets ranging from Juniors to World Cup Professional Windsurfers.
For spectators, the Tiree Wave Classic provides an amazing opportunity to immerse into windsurfing culture for the week. Surfing, windsurfing and paddle boarding are all available to try along with a range of other sports and an event village.
There are multiple events and nightlife functions organised during the week making the Classic a great option for everyone.
The Enchanted Forest - 29th September–30th October - Pitlochry
The Enchanted Forest is making its much-anticipated return to Pitlochry this Autumn with our 20th-anniversary show, Together.
Over the last two decades, more than 600,000 visitors have flocked to Scotland's favourite sound and light show making The Enchanted Forest a must-see for families across the country.
This year's show theme, Together, has been inspired by the hopeful public mood of togetherness that so many are now enjoying after such a long time apart, and a desire to mark the 20th anniversary of our event, which was founded in 2002.
During your visit to The Enchanted Forest, you will be transported to a unique and inspirational place in time, where people of all ages can come together, to interact, and experience the forest as your awe-inspiring playground.
Set your imagination alight with dazzling visuals and innovative design, all choreographed against an original music score, while you explore the stunning autumn woodland setting of Forestry & Land Scotland's Faskally Wood near Pitlochry.
 GLASGOW Gin Festival – 8th October – Glasgow 
Scottish Gin Festivals is an event brand that represents 100% Scottish craft gin, Scottish tonic and local tapas. Our shows tour the country from top to bottom and beyond (the islands), bringing our unique event to venues and locations big and small. Expect the best as we work together with local distillers and other service suppliers from each region around Scotland.
Every show will be carefully programmed with a selection of small batches, hand crafted gin. Attractions include local music, a complimentary artisan tapas offering and a fizz bar serving prosecco and other bubbles. A games corner, an Instagram photo frame with dress-up props and much more can be expected at every show.
Meet the distillers, chat, sample and even buy a bottle to take home!
 Samhuinn Fire Festival - 31st October Edinburgh
Samhuinn Fire Festival marks the transition from summer to winter with our characteristic mix of fire-play, drumming, and immersive performances. Our Society has often celebrated the other quarter-day festivals, and after the large success of our namesake (Beltane), Samhuinn was our next public event in Scotland, first taking place in 1995.
Samhuinn Fire Festival is a modern re-imagining of an ancient Celtic festival, marking the darkened end of summer and the upcoming rise of winter. The story follows the overthrowing of summer by winter, with a dramatic stand-off between the summer and Winter Kings. This is overseen by the Cailleach, a Celtic representation of the Goddess, or Divine Hag, who ultimately decides each King's fate and ushers in the looming, colder months.
The transformation from summer to winter is supported by the energies and interactions of the summer and winter courts through fiery performance, music and dance. The narrative focuses on resolving seasonal conflict but also highlights the transition that many aspects of life embark on during the changing of the seasons.