5 Things to do for Halloween in Scotland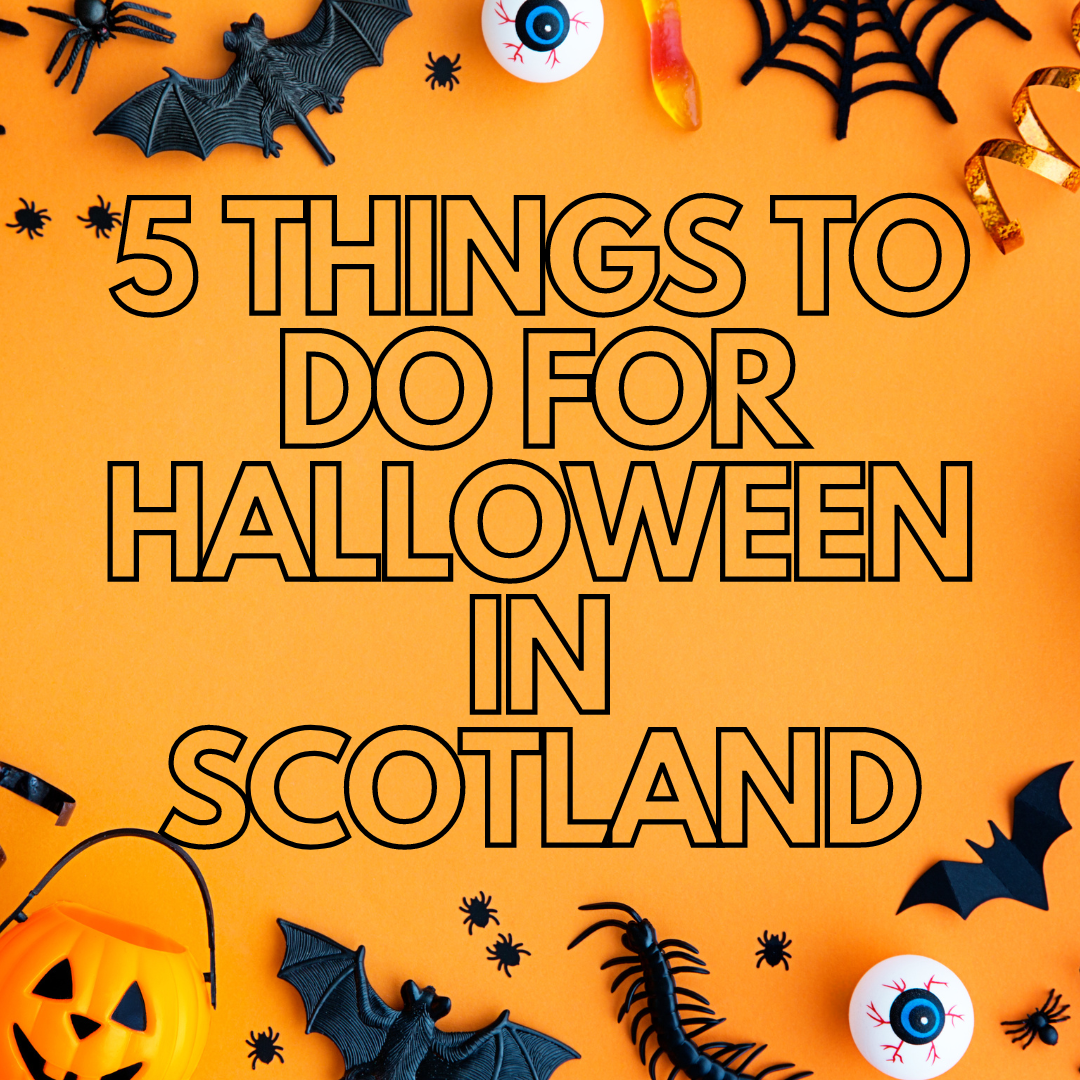 5 Things to do for Halloween in Scotland
Halloween is approaching in the next couple of weeks, and events and plans are starting to pop up all over Scotland as means to celebrate. Whether you're looking to dress up and party or for family-friendly fun, Scotland always offers extravagant Halloween events in abundance. Here are our top 5 things to do for Halloween in Scotland.


1.    Terminal V – Edinburgh - Saturday 29 - Sunday 30 October 2022


Terminal V Halloween returns for the 1st time in 3 years to the huge halls of The Royal Highland Centre.

On Saturday, October 29th, running from midday to midnight, expect a monstrous strictly indoors all-day festival and an incredible line-up of global acts and mind-bending production over our many stages.

Dressing up is highly encouraged, and you can expect some extremely spooky decorations and themes throughout the event. We'd recommend this event to younger people looking for a more intense party to celebrate Halloween, and recommend wrapping up warm in anticipation of queues.

Tickets are currently priced at £84 and you can click here for more information.




2. Make a Halloween Costume - Dundee - Tue, 18 October 2022

Will you be a bat, spider or witch? Or would you rather be a pumpkin or a cauldron?

Cate Mackie, Head of Wardrobe at Dundee Rep will be bringing her type of sewing magic so you'll be in safe hands. Event organisers will provide the fabric so you just need to come along with your imagination. Bring a plain t-shirt, shirt or dress and we will help you transform it into a spooky costume!

This organisation notes will have a small selection of the above items available just in case you don't have anything suitable. Minimal sewing skills are required.

Our workshop is open to anyone over the age of 12 but an adult must accompany 12-16-year-olds. Refreshments provided! A perfect wholesome and environmentally conscious Halloween activity for all ages. Click here for more booking information.





3. Halloween Trail – Floors Castle, Kelso - October 22nd, October 31st 2022

Gather your little monsters for ghoulishly great family fun and frights on a Halloween Pumpkin Trail through the enchanting Floors Castle Gardens and Woodlands.

Grab your broomsticks for a bone-chilling Halloween Trail that is sure to get all the family into the spirit of the season. This is an outdoor trail, around the Gardens and Woodlands of Floors Castle, so please wear suitable clothes and shoes. Don't forget your pencil so you can write the letters down that are carved on the pumpkins throughout the trail, to solve the secret words.

Tickets are on sale now for £5 per person (adults & children), under 1's go free. Click here for more booking information.





4. Saved By The 90s Halloween Party – Slay Nightclub Glasgow- 28th October 2022

The UK's ultimate 90's night is coming to Glasgow for a Halloween Special! This Halloween you're invited to a night dedicated to all the 90's kids! Get ready to Spice Up Your Life and take you back in time to a very special era that will make you feel Larger Than Life!

You will be Dancing In The Moonlight to the greatest 90's hits, plus all those guilty pleasures you used to listen to in your Mum's car.

Get ready to scream your heart out to all the anthems of our youth: Backstreet Boys/ Spice Girls /NSYNC/Britney Spears/ Beastie Boys/ Shania Twain/ Five/ Ace Of Base/ Whitney Houston/ Peter Andre/ Shaggy/ S-Club 7/ No Doubt/ Mariah Carey/ Christina Aguilera/ Hanson and more!

90's fancy dress is highly encouraged! Strictly 18+ Celebrating your birthday between October 14th - October 31st? Then you get free entry!

Click here for more booking information.

5. Big Wild Halloween, Loch Lomond – 10th October – 31st October


Join RSPB Scotland this Halloween for an eerie-sistible day out!

Head to RSPB Loch Lomond this autumn for our Big Wild Halloween; a spooky mystery adventure exploring the magic of nature!

Families will be able to pick up a Wild Detective activity pack at the NATURE HUB, and then release your little wild monster on a mystery adventure with the characters Detective Hoot, an owl, and Constable Crumbs, a mouse.

The activity pack also includes a booklet packed full of activities and puzzles to solve, a pumpkin mask, a recipe card, owl gliders, and more!
£3.50 per pack, available 10th-31st October 10 am-4pm at the nature hub.