5 Stunning Cycling Routes in Scotland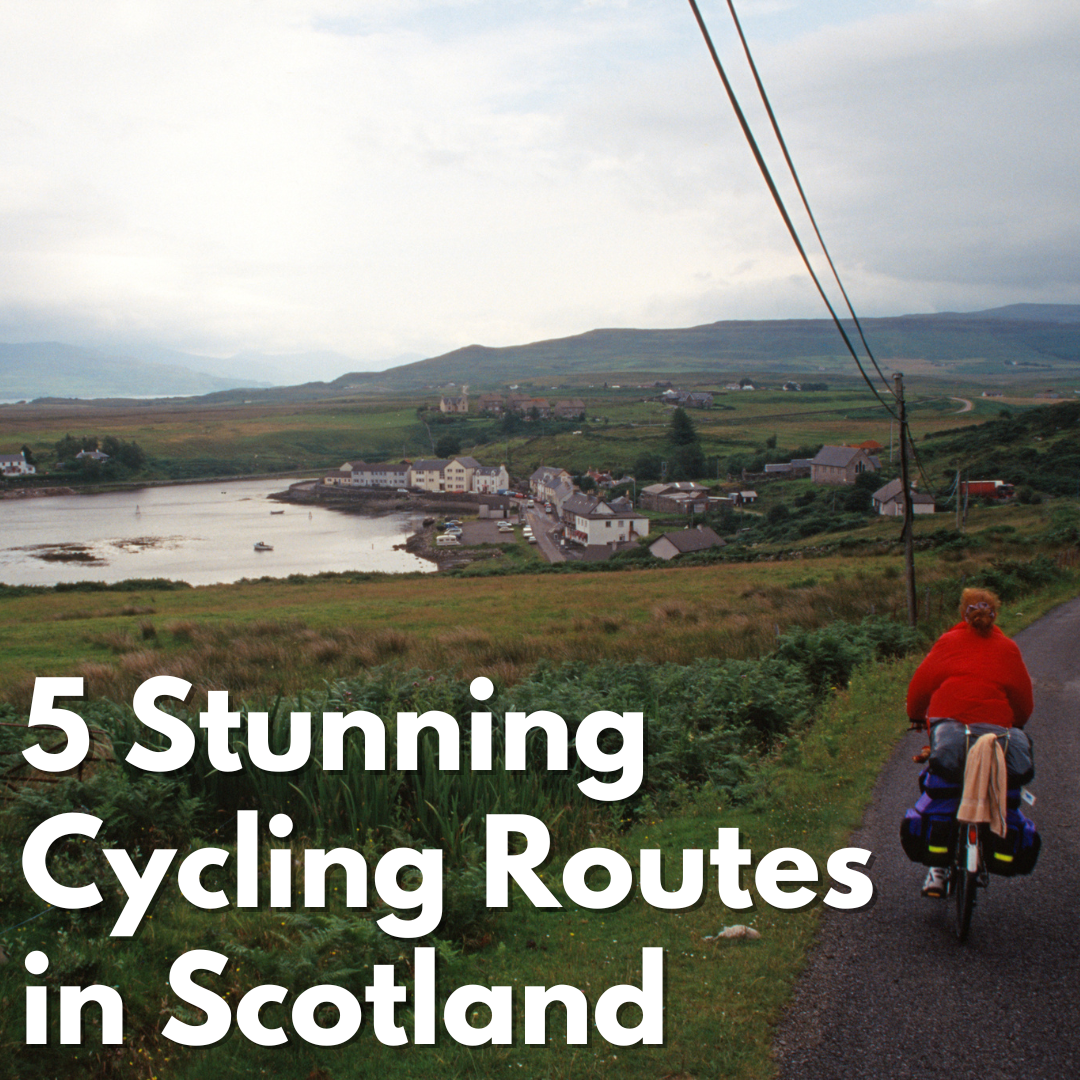 5 Stunning Cycling Routes in Scotland
Are you an avid cyclist? Looking for an active way to explore Scotland? Get cycling! Scotland hosts some of the world's most beautiful cycling paths, with a big push from the government to get peddling for its environmental benefits for the country. Scotland is loved for its amazing scenic views, and many use their cars to explore the incredible countryside, but recently there has been an increase in cycling holidays and day trips instead. Whether you're a beginner, a family, a pro or just want to dedicate a day, here are our top 5 favourite cycling routes in Scotland.

One-Day Cycle Routes for Beginners

The Caledonia Way - Fort Augustus To Laggan Locks


One of Scotland's most loved cycle routes for its gentle journey and beautiful scenery, we strongly recommend the Caledonia Way for beginners.

Starting at Fort Augustus, this route is approximately 22 miles there and back. This route takes you into stunning scenery, exploring the Highlands and round to Loch Ness. The views of Old Invergarry, the Fort Augustus railway line and the mountains of Loch Lochy will motivate you to keep the pace up through the cycle and many cyclists return to do it again.

Although a rural path, the route takes you through plenty of resting stops in Laggan Locks for refreshments.  This route is excellent for beginner cyclers as the path is relatively flat

The Logierait To Dunkeld Loop

Taking you through the beautiful area of Highland Perthshire, this forest cycle takes you along Scotland's longest-flowing river.

Described as an easy/moderate cycle, this path is roughly 21 miles long and will include a quiet and secluded cycle path. You will come across some of the most beautiful nature and wildlife, possibly even some Highland cows if you're lucky! The route also passes on the River Tay, loved by many and a massive reason this path is so popular.

If you're looking to fill your cycle with some history, you can stop off at 13th-century Dunkeld Cathedral, a beautiful church filled with antiquity. The village of Dunkeld has plenty of charming cafes and restaurants to replenish before heading back on your travels

Family Friendly Cycles

The Deeside Way, Aberdeenshire

This flat 7-mile cycle path is perfect for families, starting at Ballater's Station Square on Royal Deeside and continuing along the old Deeside railway line, meaning you'll pass through charming forest scenery with beautiful mountain views.

If you're looking to add some historical aspects to your trip, this path is perfect. Taking you to Tullich Kirkyard, you can explore spooky Scottish graves and historic Pictish stones. You'll also be led to an old train station and a massive scenic bridge, where many families set up camp for picnics and a rest. This route can also be extended to Aboyne if you're up to cycling onwards for more adventures. This path is deemed as 'easy' level and ideal as it avoids any main roads, so your little ones can stay safe on mostly flat rural terrain.

Helix Park, The Kelpies And The Falkirk Wheel


Taking you along roughly 16 miles, this is one of the best cycle paths for sightseeing for the family. Starting at Helix Park in Falkirk, this path takes you to the famous Scottish Kelpies and to the Falkirk Wheel.

This route is extremely popular for families as it's a predominantly traffic-free cycleway that follows a relaxed woodland trail. Because it's set up to be surrounded by these beautiful landmarks, there are plenty of places to stop for café visits and picnics.

Many choose to stop at Callendar Park and Estate, a great place to see some Scottish wildlife and history.

 The Speyside Way, Cairngorms National Park


Starting in Aviemore and finishing in the Boat of Garten, this short cycle route is only 5 miles long and perfect for families. This path consists of mostly quiet lanes and relaxed gravel off-road paths.

This route follows a section of the popular Speyside Way, providing breathtaking rural scenery. This short path packs a punch, and there are several things to visit along the way including birch woodlands, the Cairngorms Mountains, Strathspey Railway and the Boat Hotel. There is also the RSPB Garten Nature Centre nearby if you'd like to learn more about Scotland's beautiful birds from the area.

Families love this path for its gentle path and opportunities to sight-see around the Cairngorms area.